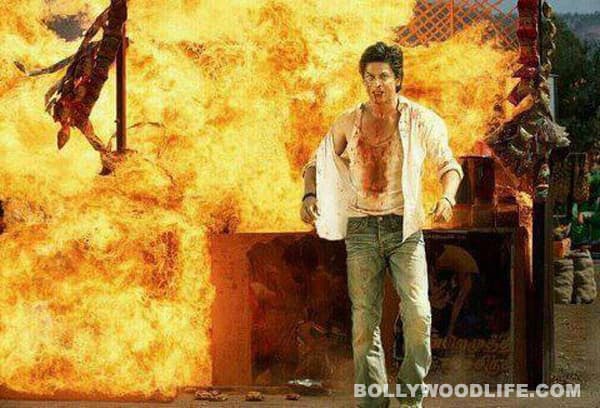 The actor, who loves to shed his blood on the big screen, shot for an action sequence for Rohit Shetty's next
The early images of Shahrukh Khan that come to our mind are that of him invariably getting soaked in blood during the climax scenes in movies like Baazigar and Darr. With blood dripping down his face and red sprinkled all over his shirt, a very angry and mean looking stick-thin SRK took on his opponents.
So when we saw the picture of an action scene he recently shot for, for Rohit Shetty's Chennai Express, it was a feeling of déjà vu – especially the shabby shirt, the bloodied ganji and the furious expression on his face.
Shahrukh, we know, loves shedding blood onscreen and he is very particular about how it makes him look – like how the bloodied pattern on his clothes and face looks. Chennai Express promises to bring back the raw Shahrukh, even if it is for those few action scenes during the climax – which, we are sure, involves blasting cars and fire in typical Shetty style!
Take a look at this still.