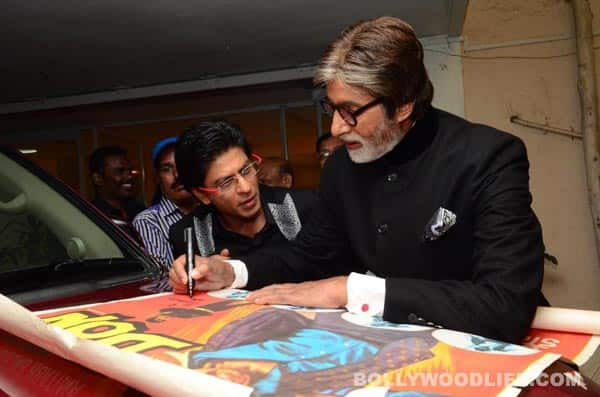 skip advertisement
Amitabh-Bachchan-1-150313
The three legends of Indian cinema shot for Filmfare together to commemorate 100 years of Indian cinema
Amitabh Bachchan, Shahrukh Khan and Dilip Kumar – three of the most loved actors of Indian cinema – were part of a special shoot of Filmfare magazine to commemorate 100 years of Indian cinema. Sr Bachchan shared pictures from the shoot, which happened in Dilip Saab's house, on his blog. Take a look.
"A photo shoot with Dilip Kumar saheb, and ShahRukh .. for FilmFare .. such a joy to be with my idol ! His sense of humor and participation still remains .. God bless him !!," Amitabh Bachchan posted on his Facebook.
He added some behind the scenes pictures, saying, "The Blog written lost again ..So for now just a few pictures of the day done at Dilip Saheb's house for a photo shoot with him and ShahRukh Khan for the cover of FilmFare, celebrating the 100 years of Indian Cinema…Fooling around before the shoot with ShahRukh .."
Big B also signed an original poster of his hit 1978 film Don on Shahrukh Khan's request. He posted, "After the photo shoot with Yusuf Saheb urph Dilip Saheb, ShahRukh is over, Shahrukh asks me to sign the original poster of 'Don'. I think the posters of old are becoming very rare." SRK starred in Don's remake (2006) and also the remake's sequel Don 2 (2011).
Bachchan also talked about a picture of Dilip Saab with former prime minister Jawaharlal Nehru, taken when Big B was still in college. He said, "A picture in Dilip Kumars house which I noticed during the photo shoot .. Pt Jawaharlal Nehru and Dilip saheb .. it was shot at Teen Murti House, the residence of Pt Nehru .. and … I was there at the time .. still in College and all starry eyed …." VIEW MORE PICS BELOW!