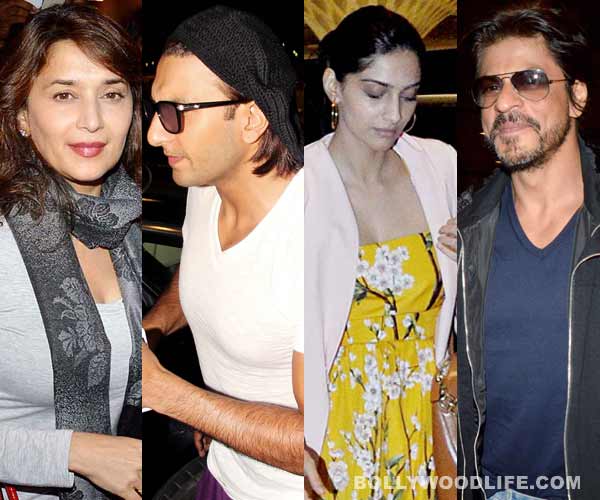 skip advertisement
madhuri-srk-sonam-ranveer
We spotted the most sparkling celebrities of B-town turning up in their 'airport-ready' avatars just when they were about to fly. Take a look at this picture gallery and tell us who looked comfy and stylishly forward!
You don't come to the airport to make a style statement, you get there to fly! But the norm changes drastically if you happen to be the darling of the glam-world as thousands of camera chase you, even at the airport. So while mere mortals choose to wear anything that puts them at ease as they buckle up their seat-belts and get set to fly, our celebrities make sure that even their airport attire highlights their best features.
What's also interesting is that B-town dwellers also co-ordinate their attires with funky accessories that fetch instant attention! From high boots to heavy jackets and from monkey caps to designer bags everybody makes sure that there is something to please the cameras. While some choose comfort over chic, some simply go for the kill with their carefully crafted and meticulously maintained sartorial wisdom.
From Shahrukh Khan to Sonam Kapoor and the jumpy Ranveer Singh to elegant Madhuri Dixit-Nene –we captured an assortment of celebrities in their flight-ready mode. King Khan looked absolutely rugged and yet a total charmer- that he is- in a simple tee and tattered denims. He threw over a comfy black jacket and added a touch a mystery with a pair of aviators that went well with his facial fuzz. Sonam decided to don an off-shoulder yellow outfit. The style diva teamed it up with a soft, baby-pink jacket. The oversized bag she sported only reinstated Sonam's fashionista status. Ranveer Singh decide d to keep his look ultra-comfortable yet quirky with his colourful pajamas. The cap and the glasses only heightened the notoriously popular Ranveer drama. The Dhak-dhak gal added a hint of colour to her otherwise comfortable attire with a red bag. The studded shoulder of her grey outfit and the designer scarf added the much needed glamour.
Now you browse through this gallery and tell us who kept the 'high-flying affair' comfy, colour and absolutely chic!