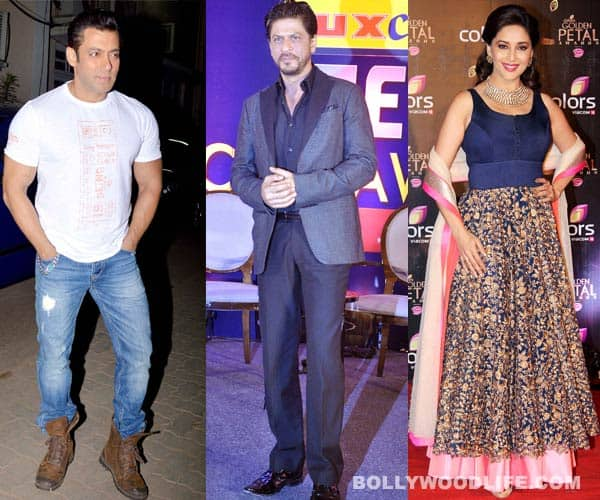 For once, King Khan came out in the open and supported his arch rival
Madhuri Dixit-Nene, Salman Khan, Alia Bhatt and many other Bollywood celebs recently performed at the Saifai Mahotsav in Uttar Pradesh. The cultural extravaganza was criticised by many as they felt the state's money was being wasted in Saifai while people were dying from severe cold in Muzaffarnagar relief camps.
Shahrukh Khan defended Salman and Madhuri's act. At an event, Shahrukh said, "I wouldn't take a moral high ground on it."The Happy New Year actor further added, "I have performed earlier, not knowing the situation in the area… I have seen on news what's happening and I can understand the media's point of view but it's unfair to nitpick on Bollywood for everything. We are performers and that's our job."
While we are happy that SRK stood up for the industry. Salman and Madhuri defended their presence at the Saifai Mahotsav. The Jai Ho actor issued a statement which said, "In Etawah, Being Human, on behalf of all artists who performed yesterday, has committed to fund 200 paediatric heart surgeries in UP." He further added, "Whenever I visit a place for a performance or a promotion, I see it as an opportunity to help the locals in the areas of healthcare or education," the 48-year-old added, detailing his organisation's work in various cities. Along with Sallu, the Dedh Ishqiya actor also defended their performances. "As artists and celebrities, we believe in using our reach to help others through drawing attention to the needs of the day," tweeted Madhuri.