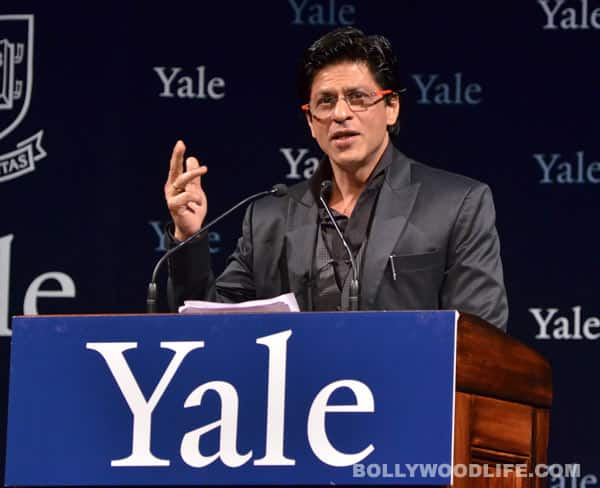 The King Khan was at his best as he entertained the students at the Yale University with his entertaining speech. Cineswami picks out some gems
Despite being detained again by insensitive American immigration authorities, the Badshah of Bollywood Shahrukh Khan was in effervescent spirits as he delivered his speech to students of Yale University. The Schubert Theatre was packed to capacity and many fans that came from across the length and breadth of America had to be turned away as the venue has strict fire safety regulations. Cineswami of course had a ringside seat to record some SRK nuggets just for you me lovelies.
"I have memories of being in Yale five years ago. It was December and so damn cold that while professing love to my leading lady and singing a Bollywood ditty, which went something like this – Kabhie Alvida Na Kehna– my mouth froze itself to death. I say death because as I inched closer to kiss her, mouthing the words Kabhi Alvida Na… my mouth and jaw just got locked."
"I was told not to dwell too much on my movies when I speak to you, I am to give you an inspirational talk- tell you stuff you can think about when you leave this room. That worries me, it gives me performance anxiety. Here you are, 1500 of you, hoping to hear words of wisdom from this sexy, desirable man, who couldn't kiss a girl, last time he was in Yale because it was too cold. But I'm not that guy, I mean, I'm sexy and desirable for sure but I'm not about to leave you anymore inspired than when you walked in here."
"The day I felt my first success seemed fleeting, hour-long, not long enough perhaps. I wondered where it went. Even the cycle of time confounds me. I work the dark until sunrise on most days and fall asleep as the world awakens to light. My friends call me an owl, I like to think of myself as a bat…Batman…the prince of darkness."
"Age is not my forte either, I still cannot fix my own – am I 45 or 15? If I could, would I be romancing girls one third my age, who normally would call me 'uncle'."
"I had so much fun collecting the action figures of my last film (called RA.One) that none of the critical reviews tanking it mattered to me."
"Many a nights, I have gone back home after receiving an award – pumped up and all happy – just to read that what I really deserved was the Golden Banana for Worst Actor Of The Year. I become heartbroken, angry and completely convinced that bananas and critics, both should have their skins peeled and fed to the monkeys."
"When faced with dissent, I start losing my love affair with my audience. It becomes a tight balance act, to keep doing what I do best and not be bothered by the reactions of people I do it for, in the first place."
"I dance harder and cartwheel longer and pirouette on my rope – stretched, taut, beneath my feet. And I try not to slip, I can slide but never fall off. All this while, I have a smile on my face and signing autographs. All I am is a funambulist trying to balance my action and exterior reaction to my naked show of who I am inside."
"The other day my son and I stumbled upon the Kamasutra on the net and I can tell you that experience was not very happy. He's 14 and he knew more about it than I did."
ALSO READ:
Shahrukh Khan's detention at US airport inappropriate: Rajiv Shukla
Why do people believe that Shahrukh Khan and Priyanka Chopra are more than friends!