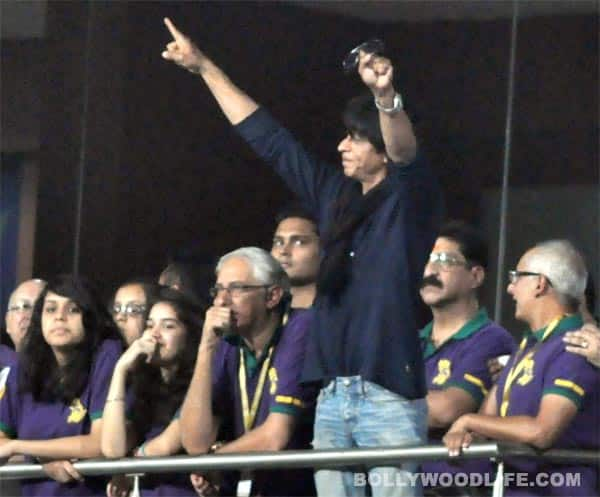 Cineswami talks about SRK at the Indian Premier League finale and the ongoing spot-fixing controversy
Had you for a moment there, didn't we. Shahrukh Khan, Deepika Padukone and some members of team Chennai Express will be present in Kolkata during the Indian Premier League (IPL) final to promote the film and in the process fix the lack of glamour at Eden Gardens. Though SRK's team, the Kolkata Knight Riders crashed out of the tournament, the star will at least be allowed into the ground unlike at the Wankhede stadium in Mumbai where he is persona non grata after being part of a fracas there last year.It is not clear whether the Chennai Express IPL film promotion strategy has been communicated to the organisers. Certainly Balaji didn't inform them about the Once Upon a Time in Mumbaai Again promotion, resulting in Akshay Kumar and Emraan Hashmi being blanked from the coverage.
While on the IPL spot-fixing saga, the late and much loved and missed Dara Singh named his son after a popular Goan dish for best known to himself. Be that as it may, Vindaloo (Vindu) is singing like a canary and has apparently named and shamed some top Bollywood stars. If there is any justice in India, those named will be questioned and if evidence is found, jailed. But justice takes a long time to be served in the land of Mahatma Gandhi. It took 20 long years before Sanjay Dutt was locked up and he'll be out faster than you can say 'Munnabhai sequel'; Salman Khan continues to roam free while his driving and blackbuck cases creak on in court and ditto for Saif Ali Khan for the latter case. At least Shayan Munshi (who?) is being tried for his perjury. And does anyone know where Shiney Ahuja is?
We are celebrating the centenary of Indian cinema and one of the industry's greats must be looking down from the big studio in the sky and squirming in discomfort. We are talking about Avichi Meiyappa Chettiar, founder of AVM studios. The pioneering efforts of one of the fathers of Indian cinema are too numerous to be mentioned here, but we are concerned with his grandson. Though it is widely believed that N Srinivasan owns the Chennai Super Kings franchise, technically the position of franchise head belongs to his son in law, Gurunath Meiyappan who his named after his grandfather Avichi Meiyappa Chettiar. Meiyappan is due to be questioned by the police for his alleged connections with bookies and this fact alone is enough to trouble his late grandfather's soul.
Meanwhile, Kings XI Punjab owner Preity Zinta's long delayed dream project Ishkq In Paris has finally opened and predictably, has not troubled the scoreboard. For those who like to keep track of these things, the plotline of the film is 'inspired' by Before Sunrise and the location from its sequel Before Sunset.
Finally, from one form of pornography, namely the IPL, to the real deal, since all of you seem to be lapping it up with alacrity these days. Cartoonist Satish Acharya, bless his cotton socks, has come up with the best joke on the IPL. He says that Sreesanth is only the second most famous Malayali with a towel. The most famous is soft porn star Shakeela. Poor Sreesanth, he can't be numero uno in anything.