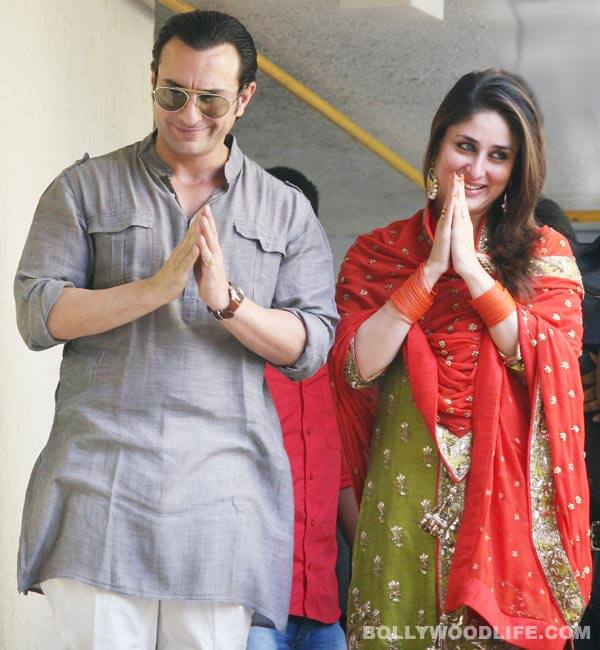 Bollywood's latest jodi gets King Khan's benign words in blessing
Saif Ali Khan finally got married to his ladylove Kareena Kapoor today and they can heave a sigh of relief – no more questions about the shaadi now! The media is busy camped outside the Taj Mahal hotel in Mumbai and the palace of Pataudi trying to get whatever they can from the venues. The wedding was solemnised in the presence of close family members who were kind enough to step out and wave briefly to photographers.
B-town celebs who didn't make it to the guest list posted their good wishes for the couple on Twitter, despite the fact that neither Saif nor Kareena are on the micro-blogging site. Shahrukh Khan tweeted, "Happıest marrıage bond to my frıend Saıf & Kareena. May Allah keep ur famıly healthy & happy. Just saw ıt ıs regıstered,sealed & delıvered." Tushhar Kapoor, who made his Bollywood debut with Bebo and was at the sangeet said, "All my love and the bestest wishes to my first 'heroine' Kareena on her wedding today to Saif Ali Khan! This one's surely a blockbuster!" !" Bebo's BFF Amrita Arora tweeted, "Congrats my darling Beebo n Saifuuu…Love you'll both,n wish you'll the best in life foreverrrrr.." VJ-actor Sophie Choudry said, "Massive congrats to Saif & Bebo. Beautiful couple. Wish them all the best as they begin their new journey tog!"
We just hope the nawabi jodi gets these wishes and sends everyone a 'thank you' note!
ALSO READ: Kareena Kapoor-Saif Ali Khan wedding: What were the bride and groom wearing?