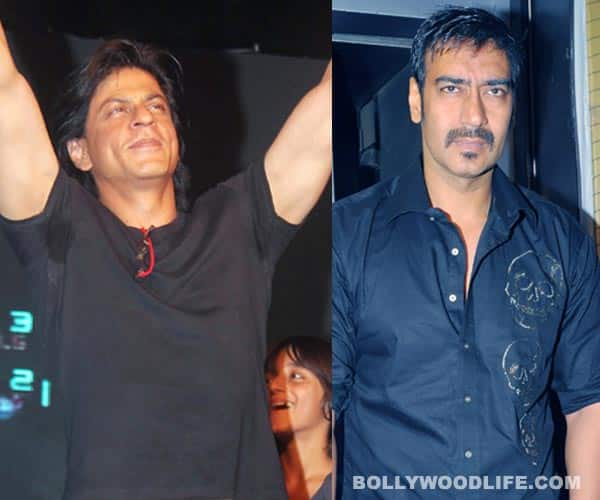 Director Yash Chopra seems to have conquered the hearts of movie lovers – his romantic musical trounces Ajay Devgn's massy entertainer with a huge margin
Bollywoodlife.com conducted an online poll asking readers what they would watch this Diwali. We got an overwhelming response. Perhaps the competition was not really tough – we asked you to choose your favourite movie to watch, Shahrukh Khan's Jab Tak Hai Jaan and Ajay Devgn's Son Of Sardaar. From the results we found that come November 13, King Khan will reclaim his position in the hearts of film lovers. This time he has Yash Chopra, AR Rahman and Gulzar on his side, with Anushka Sharma and Katrina Kaif as added tadka, and the team already seems to be winning.
While Jab Tak Hai Jaan received a huge 76.42 percent (3,996 votes), Son Of Sardaar had to make do with just 19.87 percent (1,039 votes). A meager 3.71 percent (194 votes) said they would watch both films this Diwali. There have been talks about how Devgn might reconsider the release date of his film, that he is waiting for the music launch of JTHJ to take the final call.
Our exhibitor friend insists that because of an extended festive weekend, both JTHJ and SOS might find takers. Another insider says that releasing a film alongside a Yash Raj Films production is as suicidal as having a release during an Indo-Pakistan cricket match. Over-the-top funny as it seems to be, the fate of Ajay Devgn's home production looks bleak, because it will be clashing swords with Chopra's behemoth.
Bollywoodlifers have given their verdict – for them it is Yash Chopra's musical offering this Diwali. What about you? Did you vote?
ALSO READ: Ajay Devgn's 'Son of Sardaar' offends Sikhs!