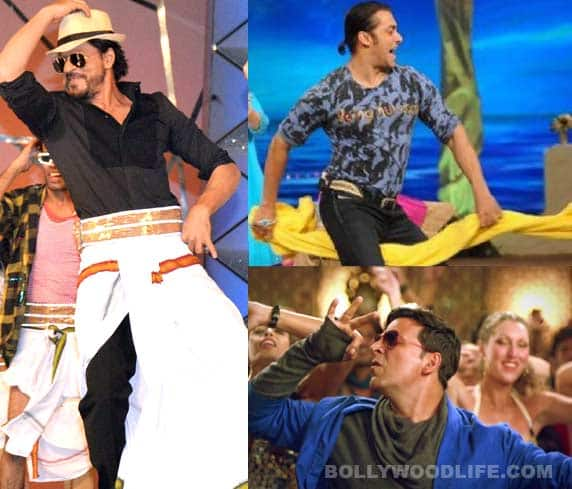 skip advertisement
Teaser-Shahrukh-Salman-Akshay
Bollywoodwallas know how to use exciting props to make songs look more…err… meaningful and loads more fun. Take a look at how a towel, a hat and a lungi can add that extra something to an already popular number…
Once in a while lyrics, music and choreography fail to make a song work. That is when a prop comes in handy to add a much-needed fun element, that proverbial tadka, making things more appealing, even beautiful and always, fun. B-town biggies from Amitabh Bachchan to Shahrukh Khan and Kareena Kapoor Khan to Katrina Kaif have used a rumaal, an umbrella or even a belt at some point to woo fans. Take a look at some really memorable props that shone brighter than the stars who used them….
Salman Khan's towel: He is the master when it comes to using his imagination and that something extra. Sallu has wielded a guitar (Jab Pyar Kiya To Darna Kya) and a towel (Jawaani phir na aaye) to amazing effect. In fact, bhai knows how to wiggle his belt, boots, aviators and even backpockets to create hysteria!
Shahrukh Khan's lungi: He usually relies on his incredible wit, charming dimple and gift of the gab to keep fans entertained. And his now-legendary romantic pose has been channelled in almost every film he's done. But when he wrapped himself in a lungi and hopped about at the very end of Chennai Express, the King Khan made history of sorts!
Akshay Kumar's hookah pipe: Known for being able to grab the audiences with his kickass Khiladi moves, Akhay Kumar showed his fans how to keep it smoking hot by grooving to the tunes of Himesh Reshamiya's peppy club number Hookah bar. While he is a non-smoker, he made the sheesha look hotter than ever with that dishy groove and cool dude attitude!
Aamir Khan's umbrella: Mr Perfectionist is rarely satisfied unless he uses every prop he can justify to… err… perfection. From a matchstick and a handkerchief in Aati kya Khandala in Gulaam to a vibrant umbrella in Zoobie doobie from 3 Idiots, the shorty Khan wooed his onscreen lady love like a pro. With a little help, of course!
Govinda's sexy handkerchief!: When it comes to sexualising props to draw whistles from the audience, no one can beat Govinda. Remember how he proclaimed almost everything he owned was sexy when he shook a leg to the hilariously over-the- top Meri pant bhi sexy, mera shirt bhi sexy..yeh rumaal bhi sexy hain? And his family was sexy too!
Amitabh Bachchan's guitar: In a movie career spanning over four decades Amitabh Bachchan must have used a zillion props, but the one that swept us off our feet was a stylish guitar in Jhoom Barabar Jhoom. The movie bombed, but the 66-year-old Big B rocked in his hatke artistic avatar. And the hat, the feathers and, of course, the guitar, made it happen.
Katrina Kaif's hoops: If you think that the lady could intoxicate just with her elegant screen presence and a bottle of pahua tied to her precariously low kashti in Chikni Chameli, then consider her acrobatic moves using ropes and hoops in Malang from Dhoom:3. We knew right then that Kat is not just a delicate… err… prop that directors use for visual pleasure, hai na?