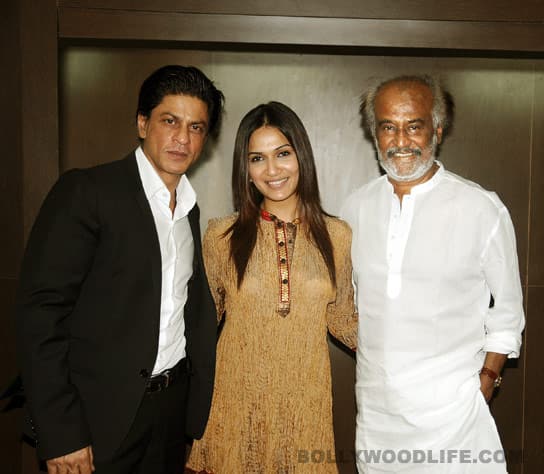 skip advertisement
SRK-Rajini-soundarya-121011
Shahrukh Khan is leaving no stone unturned to promote his mega-ambitious RA.One. How could he miss out on blessings from the god of Tamil films?
Rajnikanth's presence alone, it is believed, has magical power of sorts. And Shahrukh Khan is trying to cash in on it big time. The last time the southern superstar made an appearance on a cricket ground, team India went onto win the world cup. This time around, if anybody needs Rajini and his massive support most, it has to be the Badshah of Bollywood.
After all, Shahrukh has Rs 150 crore riding on RA.One and is using every possible space and medium to promote this superhero flick. After shooting Rajinikanth's cameo scenes for RA.One in Mumbai, SRK, accompanied by Arjun Rampal, boarded a Chennai bound flight to meet Rajini and unveil the first look of the film's Tamil version. But Rajini saar could not make it at the event and his daughter Soundarya and wife Latha represented him on the occasion. Mani Ratnam and wife Suhasini were also present. To make up for his absence, Rajini spent some time with SRK at his Chennai residence and discussed the film, too. Now, with Rajini's golden touch, no one can stop RA.One from scaling newer heights and turn out to be a monstrous hit of the year. All you Rajini fans out there, what say?
Photos: India Syndicate and publicity stills
ALSO READ: Is Shahrukh Khan overdoing it for 'RA.One'?