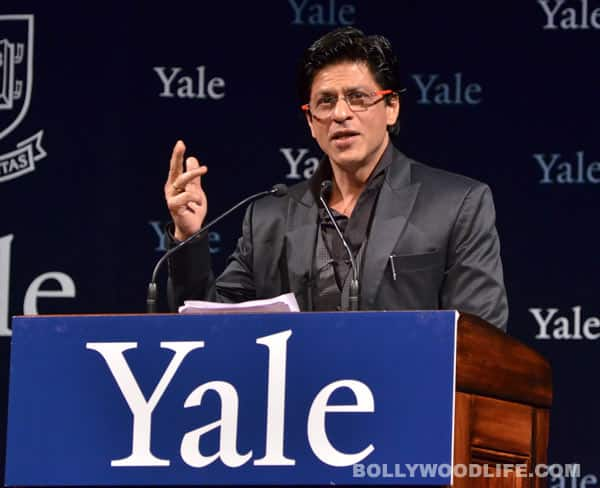 Bollywood badshah Shahrukh Khan was invited to address the students at Yale University and his name was added to the roster of Yale University's Chubb Fellows, one of the Ivy League institution's highest honours, for promoting human ideals through art
As always, the King Khan was at his entertaining and seriously funambulist best. We enjoyed listening to his speech at the Chubb Fellowship event at Yale and hope you will too. Read on…
Good evening everyone. I'd like to thank you all for giving me the opportunity to be here. I also want to thank Isha for following up with the most disorganised and uncommunicative person in the world in order to fix today's meeting with all of you. Thanks! I really am honoured and extremely happy to be here. I have memories of being in Yale five years ago. It was December and so damn cold that while professing love to my leading lady and singing a Bollywood ditty which went something like this, Kabhie alvida na kehna – my mouth froze itself to death. I say death because as I inched closer to kiss her, mouthing the words kabhi alvida na… my mouth and jaw just locked.
So I am hoping my second outing to your wonderful university turns out differently, because it would be highly embarrassing if I said, "Good evening Yaleites" or "Yalers", or whatever you guys are called, and got stuck at Yaaaaa…. That wouldn't make for much of a speech. I was told not to dwell too much on my movies when I spoke to you. I am to give you an inspirational talk – tell you stuff you can think about when you leave this room. That worries me; it gives me performance anxiety. Here you are, 1,500 of you, hoping to hear words of wisdom from this sexy, desirable man who couldn't kiss a girl last time he was in Yale because it was too cold. But I'm not that guy. I mean, I'm sexy and desirable, for sure, but I'm not about to leave you any more inspired than when you walked in here.
 Next| SRK says, Google me!