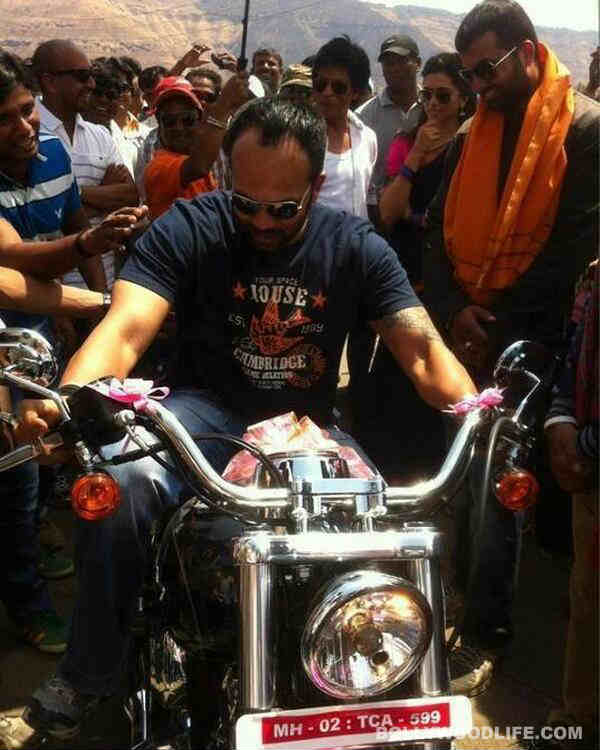 skip advertisement
The superstar threw a party on the sets of Chennai Express for the director
Trust Shahrukh Khan to pamper his friends – especially his directors – well! Legend goes that after the release of Kuch Kuch Hota Hai (1998), he gifted Karan Johar with an Opal Astra car, seeing him driving in a Maruti model. And now, for Rohit Shetty, the director of his film Chennai Express, SRK not only organised an impromptu but secret bash at the shooting location of Wai, but also presented him with an Ed Hardy bike.
The story goes that after pack up, the cast and crew went to sleep, but Shahrukh knocked on Rohit's door on the pretence of taking him for a walk. He took him into a room where the crew surprised him with a cake and shouts of 'Happy birthday!'
SRK's publicist shared pictures of the party where Rohit, SRK and Chennai Express' leading Deepika Padkone is seen. SRK even made sure Rohit's family was present at the do. But the Golmaal filmmaker had no clue of this and it was a surprise for him. We hear there was dancing, good food and champagne, and SRK made everyone play boardgames way into the night.
But hey, we wonder if King Khan wished arch rival Aamir Khan too… Aamir celebrated his birthday on March 14 as well. He was in Switzerland shooting for Dhoom:3.
As for Rohit, the director who believes in 'early to bed and early to rise…' had to make an exception for his surprise party!