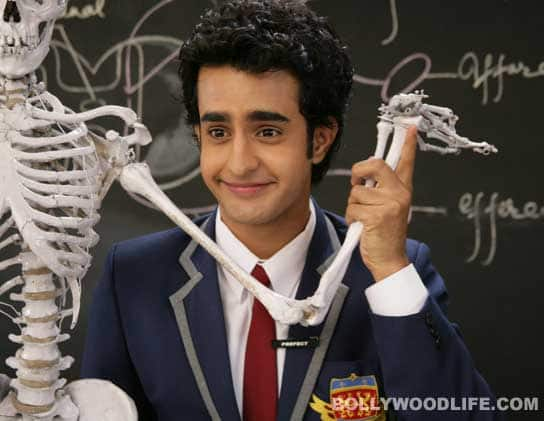 Satyajeet Dubey makes his acting debut in Roshan Abbas' Always Kabhi Kabhi (AKK), playing Tariq – a geek with a heart of gold.
The actor spoke to us about turning down offers from Yash Raj Films and Dharma Productions because of clashing dates, and his passion for the craft.
What is Always Kabhi Kabhi about?
It is the story of young school-going students who are coming to terms with the facts of life. It is about first love, first rejection and many other things that happen in a student's life. Unlike the recently released Pyaar ka Punchnama and Luv Ka The End, our film is not restricted to love affairs and break-ups et al. It tackles a lot of issues and internal conflicts that the current generation is going through, without being preachy like Taare Zameen Par. It also highlights the relationship between parents and children and how they can be at peace with each other.
What is your role in this film?
I play the role of Tariq who is an amiable geek with a heart of gold. Though he is happy-go-lucky, he still tops in school and is a dependable friend who is always there to help. He aspires to get admission in the reputed MIT and is addressed as Einstein by his friends. I am paired with Zoa Morani who is also making her acting debut in this film. Though she was nervous initially, she is a quick learner. She has assisted Farah Khan on Om Shanti Om. We had an exhaustive month-long workshop and we were together all the time. That helped us build a rapport, which I think will be for all to see when the film releases.
How did you land this role?
It seems that I am destiny's favourite child. After finishing my schooling from Bilaspur, I shifted to Mumbai to chase my dream of acting in films. Hailing from a middle-class family, I realised that I couldn't survive on the pocket money I got from home. I had to supplement that income to survive so I took up a call centre job. I wasn't happy with it but I needed to save money before plunging into films full time. Once I thought I had saved enough, I started doing theatre and auditioned for roles. I was offered roles of the hero's younger brother and the like but that wasn't what I wanted to do. Some friends told me I will do well in advertisements, so I gave it a shot and within 15 odd days, my face was all over the city in various ads. I was spotted by Roshan sir's wife in the Reliance Big TV ad, and she recommended me to him. Initially he was skeptical but once he saw the audition, he was sure that I fit the role of Tariq to the T.
Your life's story seems to be like a dream sequence…
I agree; these days when I wake up, it all seems like a beautiful dream. Who else can boast of being launched in a film produced by Shahrukh Khan? Just recently I came across Rhonda Bryne's book The Secret and I have been living the book without actually realising it. I always wanted a life like this. When I go back to my hometown, I see my friends who are either studying or trying to get a job and today they all look at me with pride. They tell me that we all started off same…playing football and generally having fun but you are living your dream, doing exactly what you used to tell us back then.
When did you meet Shahrukh Khan?
We were supposed to have many meetings with Shahrukh sir even before the shoot began. Then he became very busy with the Kolkata Knight Riders at IPL, then RA.One and subsequently Don 2. An important reason why he stayed away from us initially was that he didn't want to influence us. He is a university in himself and there was a possibility that we would try to do the scenes in a way he would have done. Not that he was oblivious to the way the shoot was happening; actually he used to get the tapes of each day's proceedings and he was cued in to everything that happened on the shoot. After the actual shoot wrapped up, we were told that we would be doing a song with him. It was a defining moment for all of us. There he was, such a huge superstar, bursting with energy and enthusiasm as if it were his first film. As soon as he came on the sets he memorised the lines of the song, got the dance steps right and left us awe inspired. It is an experience we will all cherish for the rest of our lives. The first film of his I had seen was Chamatkar and since then he has been entertaining us for so long. Personally I love it when he is not playing himself, like how he excelled in Swades and Chak De! India. My all-time favourite Shahrukh Khan film will be Dil Se, though it may have been a disaster at the box office, but you may say that I have a disaster fixation.
Any tips you would like to share with those who have acting aspirations?
The most important tip is to be a good human being. Other than that one must learn to observe and absorb things that are happening around. Also it is important to be focussed about how you want your career to shape up. After I had bagged AKK I had got offers from YRF and Dharma Productions, but I could not do them because I was playing one of the lead roles in a Red Chillies' film and had already committed my dates. It is always good to wait for the right project than doing whatever comes your way. What matters most is doing what you are really passionate about; at least give it a fair chance rather than regretting about not doing it later.