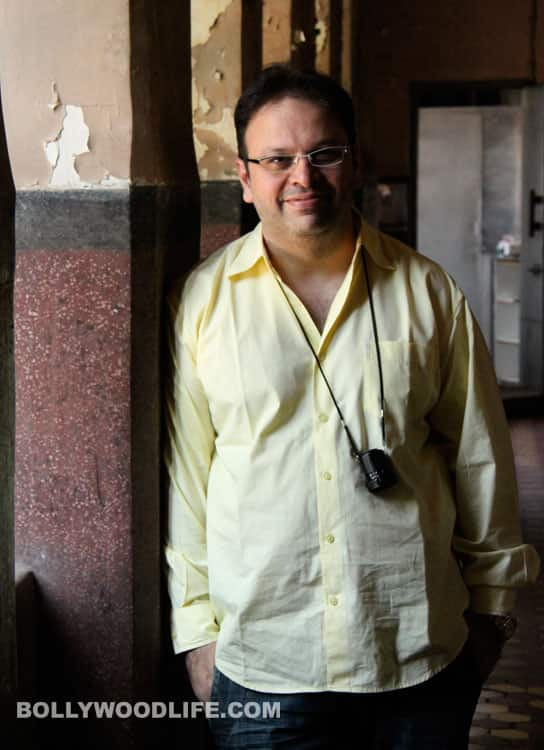 A candid conversation with filmmaker Roshan Abbas, who will soon release his first feature Always Kabhi Kabhi
Radio jock, theatre actor, TV anchor, emcee, event manager and writer are some of the roles this 40-something has played. He is Roshan Abbas. The well-known personality is now all set to release his first directorial project – Always Kabhi KabhiThe film's release is a few weeks away but before the promotional madness caught on, I land for a one-to-one at the director's residence.
Birth of Always Kabhi Kabhi
Roshan Abbas' Always Kabhi Kabhi (AKK) is an adaptation of his play, Graffiti that he wrote and directed in 1999. Sexy actress Neha Dhupia, TV anchor Samir Kochhar and VJ-cum-anchor Gaurav Kapoor had acted in it. Recollects the director, "Today these guys are doing bigger things in life…. So, a thought crossed my mind – what if the play hits a bigger canvas? But I was also doing many other things…."
Six years later, Abbas met Kochhar, and he suggested that he make the play into a film. That got him triggered. He then sent the original story to a writer-friend to develop into a screenplay. And that was it. Always Kabhi Kabhi is a coming-of-age story of four friends played by newcomers Giselle Monteiro (Love Aaj Kal), Zoa Morani, Ali Fazal (Joe in 3 Idiots) and Satyajeet Dubey. The film is about following one's heart. Abbas points out, "In a strange way SRK is the example of following his own path. I have followed my path… I find that today, conversations between parents and children are missing."
Roping in Red Chillies Entertainment
In the course of his varied career, Abbas has interacted with many people from the film industry on innumerable occasions. In 2008, on one such instance the jock-cum-anchor was hosting shows with Shahrukh Khan in Dubai. "There was supposed to be a press interaction first but the media got delayed a bit. So, we had some free time. Suddenly Shahrukh asked me what I was up to in life. I told him that I had time and wanted to do what I studied in mass communication – I wanted to make films. We talked and forgot about it," he smiles.
Precisely a week later Abbas got a call from Red Chillies for a meeting. He was on his way for a vacation with the family but his wife Shaheen insisted he finish work. The filmmaker recalls, "I narrated the script. I showed some sketches I had got made. And Shahrukh turned and said that he liked it. 'We'll do it,' he said."
Working with Shahrukh Khan
Always Kabhi Kabhi found its producers but it came with some conditions. Right at the outset, Abbas says, "Shahrukh asked if I was okay with changes. He said they'd like my overall idea but there would be discussions. This was a story in 1999 and this is 2010, so I did not mind working around it as long as the characters remain the way they are. He said, fine. So, I left for my vacation a delighted person."
After months of scripting and casting, AKK went on the floors. Being his first film and Red Chillies' first sans Shahrukh, did the star actor visit the sets, I ask. "No, and there was a reason, as he was involved in RA.One at the time. Also, I think somewhere the production wanted to explore this as a non-SRK film. There is a certain style and mode that fits into a SRK film. And here's something they are trying to do differently. But he had inputs, which came with a caveat that you do what you want to do." From scripting to casting to music to marketing, the star however gave ample suggestions. In fact, he also chalked out a unique marketing plan for the film.
What lies ahead
AKK is all set to release in June 2011 and Abbas is already thinking ahead. A self-confessed planner, he reveals, "I need to figure my next one. I have three ideas in my head." So, would it be with Red Chilies? Is AKK a part of a deal? "When I came on board, there was nothing like signing a contract of more than a film or whatever. I am already in conversation with two other production houses for my next," says Abbas.
Does that mean he is parting ways with Red Chillies? He negates it and tries to reason, "If I get an opportunity, why not? But I think that they are also in a phase that they are trying to consolidate what they want to do next…. They have so many projects lined up. It is also their first production without SRK. But, there are so many firsts attached to it that I think the proof of the pudding will be in the eating."
Click here to see the storyboard Roshan Abbas presented to the SRK