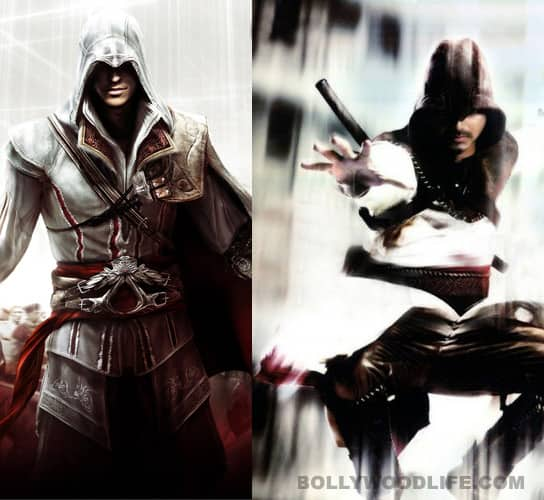 This Diwali in the south, it's Shahrukh Khan's RA.One versus Vijay's Velayudham based on Assassin's Creed, and Surya's 7Aum Arivu
Once upon a time there was a successful Tamil hero called Vijay, also known as Ilaya Thalapathi (or Junior Rajinikanth for the uninitiated). His recent films didn't exactly set the Koovam on fire. Once upon a time, and right now actually, there is and was a wildly successful historical science fiction action adventure game called Assassin's Creed, popular the world over. Team Vijay ran out of ideas for his latest vanity project Velayudham about a milkman turned vigilante. As the milkman, Vijay is in his element, playing to the galleries as per normal, but for the vigilante, Team Vijay decided to lift the look, feel and even scenes whole from the game. The Internet is full of comparisons between the two, making the inspiration obvious to the meanest intellect. Vijay's vigilante Velayudham is clearly based on Ezio from Assassin's Creed.
This being the information age, Ubisoft, the creators of Assassin's Creed, didn't take matters lying down and sued Velayudham producers Sun Pictures. Perhaps that's why the film's release was delayed from July to October 26. Now, Vijay fans will go ahead and watch the film anyway, regardless of whether it's copied or not. Hell, many of them wouldn't even have heard of Assassin's Creed, let alone the character Ezio. But October 26 is a date where Velayudham might have some, shall we say, competition. It is the date on which Ghajini director AR Murugadoss' next magnum opus, the sci-fi thriller 7 Aum Arivu starring Surya opens. The film's trailer looks terrific and is packed with world-class martial arts action, besides Surya's magnetic presence.
October 26 is also when a small film called RA.One opens. It is notable for a one-scene cameo from India's only superstar – Rajinikanth. Apparently RA.One also has some other actors in it, but who cares about them. The day after sees the release of Damadamm, earlier known as Ishk Unlimited. The film will be yet another comeback attempt by Himesh Reshammiya the actor the actor that never was. Poor man should have stuck to composing music and inflicting his high-pitched nasal vocals on the world rather than trying to demonstrate his lack of acting skills. Reshammiya will be up against that powerhouse of acting talent Esha Deol who is also trying to make a comeback with Tell Me O Kkhuda. Mayur Puri was directing the film before Hema Malini decided to take over the reins. The film is supposedly a remake of the humongous global success Mamma Mia. Maybe, may not be, but do we really care? The film does feature cameos from Salman Khan, Dharmendra, Rishi Kapoor and Vinod Khanna, but that isn't enough incentive to spend our hard earned money on the film, surely. Arjan Bajwa, who thought he was a hotshot after Fashion, is now reduced to squiring Esha Deol in a Hema Malini production. How pride doeth go before a fall.
ALSO READ: