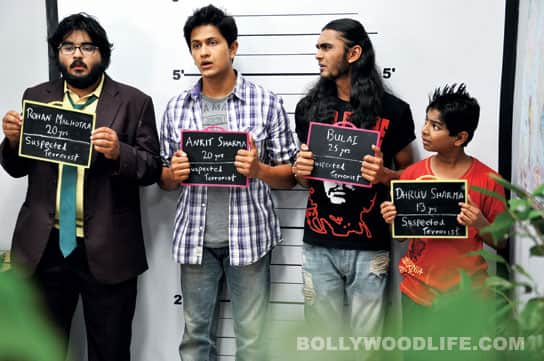 The film could have been a laugh riot, but misses the bus
Sometimes a movie comes along that is surprisingly watchable, even though it may not have popular stars or a big banner backing it. Often, it comes and goes faster than the proverbial speeding bullet – or was that G.One? – with enough madness to make a lasting impression, a la Tere Bin Laden, and sometimes it is of a similar genre, but without the chutzpah to become a sleeper hit. Shakal Pe Mat Ja is something of the latter kind, where chaos rules and lunacy prevails with no real aim or intention, missing the target ever so closely and leaving the viewer wondering what that was all about.
The film starts off very much like TBL – the director and lead actor, Shubh Mukherjee, attempts to make a documentary film on terror attacks for a college assignment. He ropes a group of his friends into the project and things go from oops to ouch very fast, leaving the audience wondering not just what is happening, but why.
Mukherjee tries hard but goes just that little bit off-track, enough to be irritating as director and as actor; Chitrak Bandhopadyay, the sort of sidekick, has little to do beyond breaking wind and trying to be funny in a pseudo-foreign accent; Pratik Katare is loaded down with fallout from his role in Paa but does not match it; and the long-haired Harsh Parekh has little charisma on screen as he has role to play. Saurabh Shukla plays a cop and Raghubir Yadav and Joy Sengupta wander on and off screen with not much to do. The girls, Umang Jain and Aamna Shariff really need to work on the assignments they choose.
Shakal… could have been a laugh-riot; instead, we would not be too surprised if there was a riot at the BO with people asking for their money back!
ALSO READ: