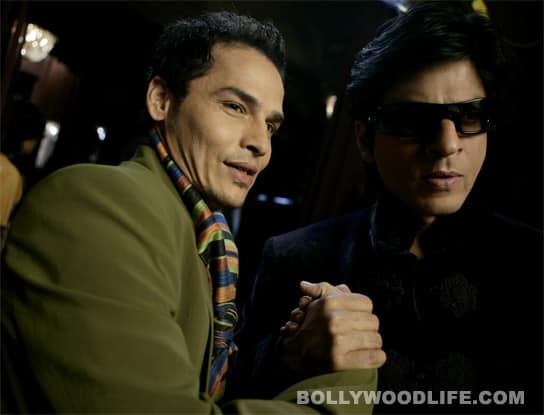 We're not talking about the Don, but his henchman Mac, who was played by Shakeel Khan in the film Don, with Shahrukh Khan
He talks about his hatred for RGV, his passion for theatre, his inclination towards money-spinning blockbusters and how he was molested by a Hollywood director.
How and why did you get into the big bad world of Bollywood after spending 12 years doing good work in the theatre circuit?
Well, the passion for theatre is still intact. Over the years I realised that art can get you applause, but definitely not a decent 2BHK flat in Mumbai. I had bills to pay and look after the family, so I thought acting in films made more sense. Why blame me? Everyone from Naseeruddin Shah to Rajat Kapoor does films to keep the kitchen flames burning.
You made your debut in Farhan Akhtar's Lakshya – how did you bag that role?
Actually, I was supposed to play Ayub Khan's role in Dil Chahta Hai, but later they realised that they wanted someone who would appear physically stronger than Aamir Khan and I didn't fit the part. The best thing about working with Excel Entertainment is that they never keep their actors in the dark. Even those who audition for the smallest parts get notified immediately, if they have been selected or rejected. This helps the actor to look around for other opportunities, unlike some production houses who treat character artists shabbily. It is a delight working with Farhan and Zoya Akhtar. At Excel Entertainment, I feel at home.
You were seen doing a passing shot in Ram Gopal Varma's Main Madhuri Dixit Banna Chahti Hoon. Why didn't you work with RGV again?
The fact is that Ram Gopal Varma doesn't pay junior artistes. Actually, a few days ago I got a call from his casting guys, saying they wanted to cast me in an important role in the Amitabh Bachchan-Sanjay Dutt starrer Department. I asked them how much I would be paid and what they offered was humiliating, to say the least. I told them I was not interested. You wouldn't believe this – they still owe me my payment for MMDBCH! I think the reason behind RGV's strange behaviour is that he is an atheist and he derives some sadistic pleasure by playing with the emotions of people, just for the heck of it. He has also lost grip over his craft of filmmaking and if you watch any of his recent films, you will know that I am not talking through my hat. His reason for being in films has totally gone off track. For MMDBCH they offered me Rs 3,000 a shift and for Department they made an offer of Rs 5,000 a shift. That's how much Ramu has grown in all these years. It is really appalling, to say the least.
You have done some Hollywood films too; was it any different from Bollywood?
Even that was a crazy experience. I was playing a small character in Russell Mulcahy's film, The Curse of King Tut's Tomb. I wasn't aware that the director was homosexual and I had caught his fancy. All through the shoot I was given VIP treatment and I was wondering why, but I didn't ponder much over it, as I was busy indulging myself. After the shoot was over, we had a party where Russell led me to the dance floor and kissed me on my lips, in front of everyone. I was aghast and didn't know how to react. I just left the place in a huff and never met him again, though he kept sending me feelers. Thankfully my experience working in the other few international films like One Night With The King and Hansie (about the match-fixing scandal, where I essayed the role of Mohammed Azharuddin) were quite wonderful and I fondly cherish those memories.
You have also assisted editors and directors in a few films – do you plan to become a director?
Frankly speaking, I don't think I want to don the director's hat. I don't think I am qualified enough to direct a film. I am happy acting, as I enjoy it the most. Hopefully, once I have made my name as an actor of repute, I would like to produce films. I am not interested in making art films. I would love to produce money-spinners like Salman Khan's Ready. For now I want to evolve and join the league of phenomenal actors like Paresh Rawal, Naseeruddin Shah and Boman Irani, whom I idolise.
Any filmmakers you are looking forward to working with?
Dibakar Banerjee is one director I would love to work with, because I have heard that he gives his actors enough space to improvise. Of course, I would like to work with Farhan and Zoya as many times as they would like to cast me, because in their films every character is important.