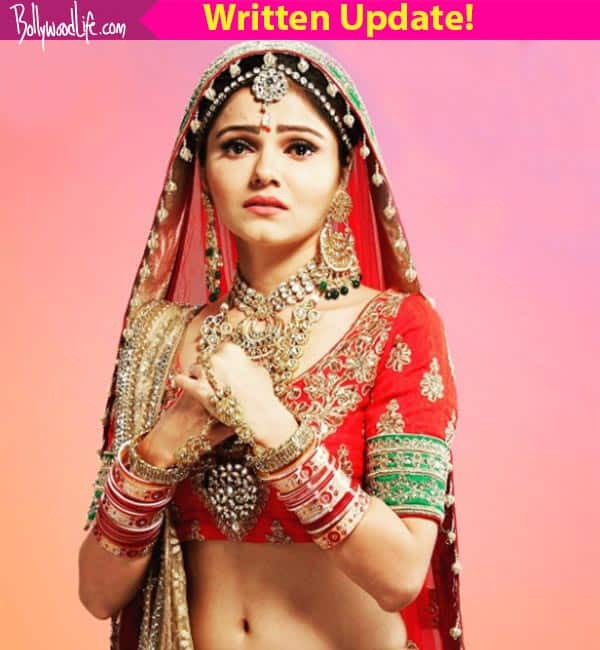 Harman (Vivian Dsena) brings Surbhi to his bedroom and keeps her on his bed. He gets worried that she is not opening her eyes. He closes the door. Surbhi opens her eyes and gets up. She says she cannot have eaten food from his hands as only Soumya (Rubina Dialik) can eat from his hands. He thanks her.
At Guruma's house, Soumya says she can't eat as Harman is not present to feed her. Kareena acts like Harman and feeds her. Soumya gets happy. At Harman's house, Harak thanks Maninder and Nimmi for coming at the right time. Nimmi says it's okay. Harak says they will have to save each other like this in future also. Maninder says he will not send his daughter again. He brought her today just to return his son's favour. Preeto says they can't back off as they are the reason why they are in this trouble. Maninder says there is no point of arguing as he will not send his daughter. He calls Surbhi. Surbhi moves around Harman's bedroom looking for Soumya's belongings but she doesn't find anything. She misses Soumya. He finds a sweater and gets relieved that Harman has kept her alive in his memories. She promises to herself that she will ensure that her sister gets all her rights.
She comes out and sees Vivaan. He comes and tells her that his love was true. He says why did she turn down his proposal. Surbhi says now he knows why he refused. He says he is still ready to marry her. Surbhi says what is he saying. Vivaan asks if she too is a kinner like Soumya. He tells her that he is ready to marry her even if she is a kinner. She asks him to shut up and leaves. He holds her hand and stops her. She tells him that her marriage is finalised. She says she will never marry him even if her marriage gets cancelled.
Eunuchs go and collect money from a vegetable seller. He sends them off. Another shopkeeper comes running and gives them money, apologises and says he is new. He tells the new shop keeper that every year all the eunuchs meet at a temple on Dussehra. He calls Harman. Preeto comes to meet Rani and her friend. They introduce her to a man and asks her to give her car to him. They say he will kidnap her and send her to airport in this car.
Harman gets a call from Surbhi. She asks if he is sure she will come there. Harman tells her he is sure that her guru will bring Soumya to the temple. He tells her that there is just one problem that only eunuchs are allowed there. Harman promises himself that he will find her before Navratri ends.
A eunuch asks Soumya to wash all the utensils. Rani and Raveena come and offer help. They say they are sorry for their behaviour and they want to become like her. They ask if they are friends now? Soumya says yes. They praise her clothes and leaves. Surbhi thinks how come they are missing Soumya every time. She says there has to be someone who is sending all the information to the eunuchs society. She suspects Maninder and Preeto. She decides to be more careful now.
Soumya comes to Rani and Raveena's room and starts looking for them to stitch a blouse for them. She decides to take their blouse from their cupboard. They see her. They accuse her of stealing things from their room. Soumya starts crying. Saya comes and asks what't the matter. Soumya tells her that she had come to take the blouse for measurements. Saya says she is not wrong and asks Rani and Raveena to stop creating problems for everyone. She asks Soumya to take the blouses and go. She pulls the blouse, a bundle of notes falls. Saya asks them where did they get all this money from. They lie and say someone gave them as a child took birth in their family. they start crying and apologising. Saya asks them to shut up and start preparations for tomorrow's maha pooja. Saya comes out and asks Kareena to keep an eye on them as she doesn't believe their reason. Rani and Raveena decide to get rid of Soumya as soon as possible.
Harman comes down. Preeto asks him if he has got some clue. He gets a call from Surbhi. She asks him not to tell anyone about their plan. Also read: Shakti-Astitva Ke Ehsaas Ki full episode17th October 2016, written update