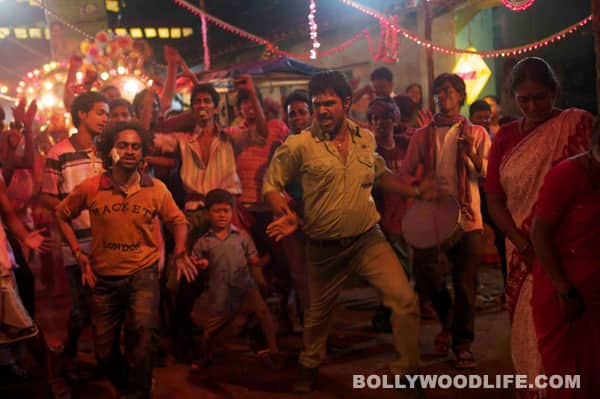 Music director: Vishal-Shekhar
Lyrics: Vishal Dadlani, Dibakar Banerjee, Anivta Dutt Nandan, Neelesh Misra
Rating: ***
Bharat mata ki jai sets the tone for this album. A comment on the current state of the India, where corruption, population issues, poverty and politics coexist with economic growth and progress – this song takes the light route to a serious issue. A long list of singers lends their voices to the song – Arun Ingle, Vishal Dadlani, RN Iyer, Mandar Apte, Bhupesh and Dibakar Banerjee. Dibakar has also written the lyrics for this song, and he has paid special attention to the crafting of words in a bid to achieve the impact he is looking for. Despite being satirical, it has the flavour of a local basti celebration with trumpets and a heavy use of dhols. With thumping beats and anthemish feel, it is sure be on the playlist of Ganpati pandals this year.
There are two more numbers in this soundtrack that make a similar comment. Morcha is situational. The use of morchan and dhol give it a very Mumbaiyya feel, especially because of its Ganesh festival-like ambience. Raja Hassan's refreshing voice really works for this track. Wish Vishal had not been so direct with his usage of words like 'mukti', 'unnati' and 'light' to make the point that Bharatnagar was heading towards progress. A little more subtlety would have made the song more poetic and listenable. Nonetheless, it's a powerful song, which could make more sense when seen in the context of the film.
Imported kamariya is an item number that talks about how the West views our country. That is definitely a refreshing change. The musical quality is nothing to write home about and the tune sounds quite jaded. But the lyrics are quite funny. "Door seher se humka laaga India aisa place. Oont gay pe aata-jaata hoga sara des…meri imported kamariya chaat ke ayi duniya, welcome welcome karti India jaan le gayi…"
Khudaya – last minute addition to this soundtrack – is a good break from the issue-based heavy numbers. It's meant to be a quintessential Emraan Hashmi song, and so it is in the romantic and groovy zone. The qawwali portions in the middle and the claps used in sync with the beats towards the end really stand out.
Dua is a sad song. Sung by Shekhar Ravjiani and Nadini Srikar, it starts off softly and then goes high pitch. Shekhar does a very good job, but Nandini's voice sounds a little too mature and thick for a song of this kind. It's a decent melody and grows on you. The album ends with Vishnu Sahasranaam – beautifully rendered by singer Srivatsa Krishna.
Dibakar has tried too hard to make the soundtrack of Shanghai commercially viable and it loses some of its spontaneity in the process. Vishal-Shekhar go out of their comfort zone by composing for a serious subject and do a decent job. Not bad!