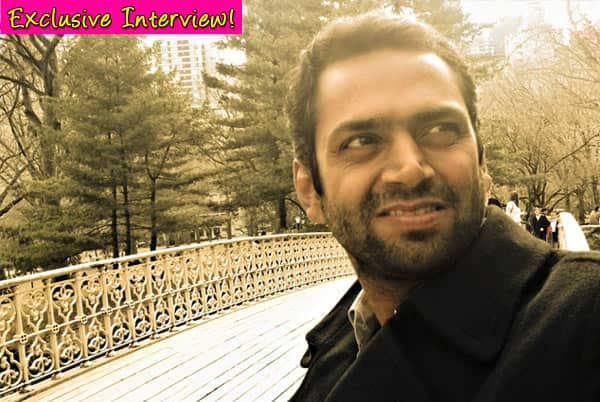 Sharib Hasmi loves all things Bollywood and has grown up seeing the glitz and glamour of cinema. His debut as a lead, Filmistaan, opens at theatres today. The budding actor talks about his experience working on the film, his unconventional looks and much more
Your film is releasing today, how badly have butterflies plagued your stomach?
I am very excited and nervous at the same time! Till now Filmistaan has only gone across the globe at various festivals, this is the official release.
You have been involved with Filmistaan in a larger capacity than just acting?
Yes, I have written the dialogues for the film. Nitin Kakkar, the film's director helped me with it. I thoroughly enjoyed the process because I have been a writer all my life. Plus being a cinema fan in real life helped a lot.
Please don't mind us asking this, but you are not a conventionally good looking actor, how did you bag Filmistaan?
I know I am not the best looking guy around here! When Nitin discussed the script with me he said that he finds me the most suited for this role and I told him that a producer would want a known and established actor for this part. There was a lot of opposition we faced due to the decision of me being cast as the lead. I told Nitin time and again that he is taking a big risk by casting me. Let's see if the big gamble works in our favour!
Do you think that the audience will not accept you like Arjun Kapoor or Ranbir Kapoor?
Well, I am not competing with those actors because I know the reality. I don't fall in that category of good-looking actors. But looks do matter, my looks got me Filmistaan! I feel that this the best time for actors like me to step out because the acceptance for us has increased. I idolise Nawazauddin Siddiqui and would love to do roles like him. Even Rajkummar Rao has done pretty well for himself. So you know, I'll find my way.
Was it hard finding producers for Filmistaan?
No, we found producers very easily. Our film was ready by October, 2012 and we even got a National Award for the film. The major hassle was getting in a proper nationwide release. Because let me tell you, getting a film released costs twice as much as the film's making. It is extremely hard for small-time producers to manage a release. We two were a bunch of nobodies waiting for a big corporate house to give us a nod. Luckily, we got UTV Motion Pictures on board as Siddharth Roy Kapur loved our film!
We can't help but mention that Filmistaan looks a lot like Tere Bin Laden. Any similarities intended there?
No! I loved Tere Bin Laden as an avid film viewer but I can tell you that Filmistaan is very different from it. I am telling you this because I have seen both the films (chuckles) Firstly, there was no Indian angle in Tere Bin Laden. Secondly, the humour is quite different in both the movies. Filmistaan isn't as cheeky as Tere Bin Laden was. Our film has black humour; we are trying to send out a message without being preachy. Haste khelte yeh film banaai hai humne. We have kept it light-hearted. It isn't very serious, there is no jingoism, no Pakistan-bashing, only love for cinema and how that transcends boundaries. But I can assure you of one thing, there is drama kyuki koi Hindi film bina drame ki poori nahi hoti!
So is Filmistaan a masala entertainer then?
You can't call Filmistaan that. I believe it's not just a comedy film it is realistic as well. Let me put it this way, Filmistaan is offbeat mainstream cinema.
Tell us about those insanely hilarious filmi aartis that came out as promos a little while back. Whose idea was that?
(laughs) You are right! I have written those aartis but the idea was UTV PR gang's brainchild. I just put my filmi andaaz to work and wrote what came to my heart!
And what about Imaamulhaq in the left corner of the frame pulling funny antics? Who was directing that?
Imaam is such a brilliant actor! He has done a great job in the film as well, the aartis are just a sneak preview into the same! Nitin saw him in Firaaq and approached him on Facebook for the role of Aftaab (in Filmistaan). He was the one to give the last audition for this character and he was bang on with his interpretation of the character.
So were there any differences between you two or all was well throughout the shooting?
No animosity at all! Imaam is lovely to work with. He is witty and spontaneous and like he is also an actor and we bonded over that most.
Because both you and Imaam are writers and you wrote the dialogues for the film did it ever happen while shooting that you wanted to change the lines or try to make it funnier?
While making the film there was a 10 percent window for improvisation but 90 percent of it was already scripted. We went through a couple of reading sessions with the director before actually starting to shoot the film. Also, because we were on a shoestring budget we didn't really have the privilege to do a lot of altering in the script while the cameras were rolling. We were lucky to shoot the entire film in a span of 20 days.
You keep reiterating that you are a true-blue filmi fan much like your character in the film. How identical are the two of you?
I am a lot like Sunny Arora, my character in the film, like mathematically speaking I am 50-60 percent like him. My father was a film journalist and we lived in a chawl. I was exposed to the glamourous world of films due to my dad and was bitten by the acting bug at a very early age. I became a writer but secretly nurtured a desire to act. I worked with big production houses for a couple of years but then decided to quit my job and pursue my acting dream seriously. I got into a financial crisis after struggling for three years and had to take up a job with UTV Bindaas. But then I landed an acting job and quit my job yet again (giggles)!
Do you want to venture into any other arena of films apart from writing and acting?
Yes of course! I love to sing and would be thrilled if given an opportunity to sing in a film. But for now I'll concentrate on my acting career. I want to try playing different character in my career. I would LOVE to do a negative role! I would like to try my hand at dancing as well (chuckles)
So any upcoming projects you would like to tell us about?
I have one more script with Nitin and I have been meeting people but haven't finalised anything yet.
Any final words for the fans who are reading this interview?
Keep liking films like Shahid, Ship of Theseus and The Lunchbox because that is the kind of cinema that is hatke and really makes you think. And please watch our Filmistaan kyuki joh filmon se kare pyaar wo Filmistaan se kaise kare inkaar!
Rapid fire round:
We asked the Jab Tak Hai Jaan actor, who will debut today as the lead protagonist in Filmistaan, four filmi questions and the actor answered with alacrity! Here it goes:-
Favourite actor – Aamir Khan
Favourite heroine – Waheeda Rehman
Favourite dialogue – Aaj khush toh bahut hogey tum!
One Bollywood role you wanted to play – Rajesh Khanna's role in Anand. I think I'll pick Anand