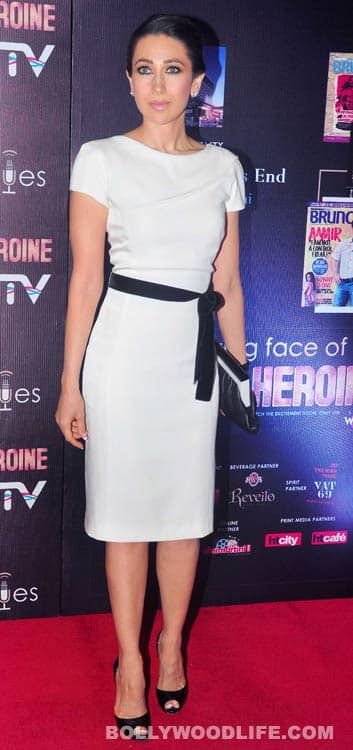 skip advertisement
The revelation was made at the HT Brunch Dialogues, where the veteran actor defended the importance of the leading lady in Hindi films
Kareena Kapoor was part of a discussion themed 'The Changing Face of the Indian Heroine' organised by a leading daily. It would have been interesting to know what she felt about the man-woman equation, especially since she has a film riding entirely (well…almost) on her slim shoulders. But what actually happened made us think hard thoughts about men and chauvinism, since not much seems to have changed at all, as was obvious in both sessions, the first in which the host Vir Sanghvi spoke to Madhur Bhandarkar, Rajkumar Gupta and Siddharth Roy Kapoor and the second including Kareena Kapoor, Karisma Kapur and Sharmila Tagore on the panel.
The biggest let down came from Vidya Balan's beau Siddharth Roy Kapoor, who said that it would take at least another five years for a woman-centric film to make Rs 100cr. Presumably he was leaving his ladylove's The Dirty Picture and Kahaani out of the realm of consideration? Mr Kapoor also said that it would take at least that long for a non-Khan film to make it to the big league at the BO. And there were more blanket statements of this kind – Bhandarkar along with Sanghvi averred that women who smoke are 'bad'. Gupta remained neutral in the discussion saying that he made films on the merit of the story, not the leading man or lady. In the next session Kareena, Karisma and Sharmila took centrestage. While Kareena stressed how lucky she felt that she had bagged a film like Heroine, Karisma said that back in her day she was one of the first among her contemporaries to do films like Fiza and Zubeida.
The highlight of the discussion was to hear Sharmila Tagore defend women by quoting her own example. Her choice of films that revolved around women who didn't conform to norms, et al was relevant. The host countered her by saying that even in those days for a woman-centric film, the protagonist had to be a streetwalker or be on the fringe of the society for it to work commercially. The powers that be seemed to be content to reduce the ladies to mere eye candy and let the Khans rake in the crores at the BO. As for that change everyone was talking about…wethinks it needed to be made mainly in the men at this meet!
ALSO READ: Heroine and Barfi! makers' greed ensure losses to films!