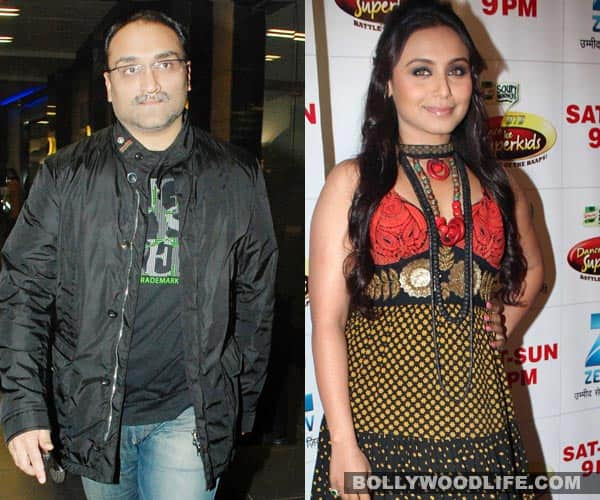 When he referred to Rani Mukerji as Rani Chopra, was Shatrughan Sinha's gaffe more than just an honest foot-in-mouth moment? Does he know something we should?
At the unveiling of Yash Chopra's statue today on the UTV Stars Walk of Fame, veteran actor Shatrughan Sinha, popularly known as Shotgun, shot his mouth off rather carelessly. It would have been just a senior moment, except that it resulted in major embarrassment for Rani Mukerji.
In a speech in which he spoke about the Chopra family, Sinha said, "Yash Chopra, Pamela Chopra, Uday Chopra, Rani… just now my wife said I missed out on Aditya Chopra. Rani Chopra ka naam liye hai toh zahir se baat hai Aditya Chopra ka naam bhi… (When I am taking Rani Chopra's name, then it is obvious that I am taking Aditya Chopra's name as well)."
Hearing that, a red faced Rani couldn't help but stare with her eyes open wide in shock. She covered her mouth at the veteran actor's blunder. But it had been said, loud and very clear, and everyone grabbed it. Incidentally, strong rumours that Rani Mukerji and Aditya Chopra have already tied the knot in 2012 have been doing the rounds. We all saw Rani assume the position of bahu at Yash Chopra's funeral ceremonies. And now, with Shatrughan's gaffe – which we know is a slip rather than deliberately done with malice, it seems that Sinha has been privy to information that hasn't yet reached the media's very sharp ears.
Perhaps to defuse that charged moment, Pamela Chopra refused to pose with Rani when a photo opportunity presented itself right after the debacle. We cannot wait too long to find out what the whole story is…anyone know more? So what is it this time? Have the two rather secretive celebrities gotten married? Considering that Aditya Chopra is paranoid about public appearances and reclusive beyond discretion with the media, it could be that the duo may be waiting to make their announcement after a decent interval – after all, Yashji passed away not that long ago, no! But for the moment, we have plenty of fodder for our brand of gossip, courtesy Shatrugan Sinha, who has so kindly done the expose for us this time.
So what say, BollywoodLifers? Kya dal mein kuch kala hai? Wink wink….
Watch the video of Shatrughan Sinha's goof up