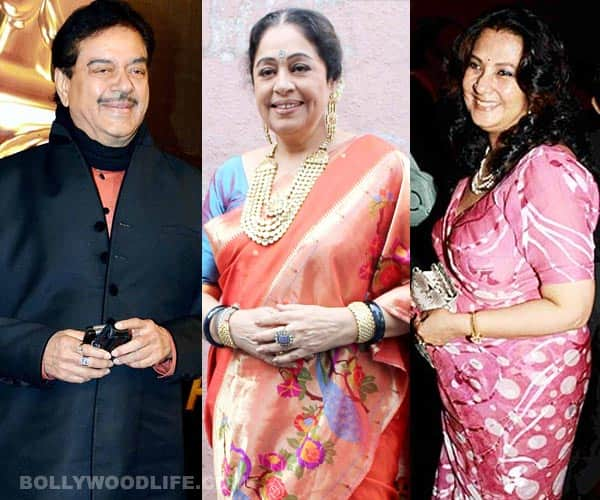 Bollywood stars who shone brightly at their constituencies in this election, talked about their victories
Shatrughan Sinha (Patna Sahib constituency in Bihar), Moon Moon Sen (Bankura constituency in West Bengal) and Kirron Kher (Chandigarh constituency in Punjab), fresh from their victories in the Lok Sabha elections, talks about their experiences.
Shatrughan Sinha
In spite of the pre-result whispers to the contrary you have won by massive margin?
Ha ha ,we're getting ready for celebrations.Yes, I've been getting congratulatory calls and messages from colleagues and friends from the industry Amitabh Bachchan ,Aamir Khan among them. Badi der ki mehebaan aate-aate …Der aaye durust hai.Shabana Azmi called and raved about the massive mandate.I've won by a much higher margin than the last time. It seems I've broken my own record.
What do you have to say to those who were hoping to see you flounder this time?
I hold no grudges against them. I forgive them, as they know not what they do or have been doing. I've broken my own previous record.Isske aage kya kehna? The people who were spreading rumours of my impending defeat were being sponsored by vested interests. Wohkisi ke saujanya se yeh sab kar rahe honge(laughs). But I am very happy. I had promised the people of Patna and members of my own political party that not only that would we win we would create a new record. Sabka mooh bandd karke humne inhe khamosh kar diya. We've created a new milestone.
No non-Congress party has been given such a thumping majority in decades?
That's exactly what I want my opponents to know, and our friends from the minority communities in particular to know. I want them to see the writing on the wall. I had predicted we'd cross 300 seats during this Lok Sabha elections.Our brothers and friends from the minority communities should understand that India has voted against Railgate, Coalgate, 2G, 3G and Jijajee(Rahul Gandhi's brother-in-law Robert Vadra).
Does Jijajee have reason to be scared now?
Anybody and everybody who has taken the country for a ride and who has indulged in massive corruption in the garb of white-collar crime would have to be dealt with firmly. And I'm sure the Action Hero(Narendra Modi) would deal with them in the sternest way possible. These white-collar criminals have have played with the junta's emotions for too long. Inka kuch toh ilaaj honi chahiye.
Inflation and corruption brought the BJP and Narendra Modi into power.Do you agree?
Bilkul. The failure of the UPA government and its leadership was reflected in the massive rise of corruption and in the price-rise. How long could the masses tolerate these conditions?Every revolution is born out of instability and chaos. The hahaakar of the UPA government proved to be the jaijaikaar of the BJP.
The general perception is that you belong to L K Advaniji's camp. Would that be a problem in your equation with Modiji?
Let me state clearly, I belong to no camp.Even as an actor I never belonged to any camp in the film industry. I was as devoted to the film industry as I am to the Bharatiya Janta Party.I am in no camp except the BJP. Having said this I'd like to add that Advaniji has contributed the maximum to bringing the BJP party into power. He is a friend, philosopher, guide, mentor and guru not only to me but the entire BJP. He is the party's godfather. No one should talk about him in a disrespectful manner. And we'll always look forward to his guidance.
Do the Muslims have reason to fear the Modi government?
I am glad you asked me this. I hope good sense prevails upon some of our friends from the minorities .The writing on the wall for the minority communities is clear. Come and join the mainstream. Those who were spreading ugly rumours about Narendra Modiji have all bitten the dust.And someone had just had to resign from Bihar after taking on Narendra Modiji.
You mean Nitish Kumar?
Samajhane wale ko ishaara kaafi hai. Let the courts decide what happened in Gujarat in 2002. We are not a Banana Republic .We can't sit judgement on someone. Forget the politics of caste and community.That's outdated. Development,progress prosperity peace are the key-words.I tell my friends from the minority community even in Pakistan…Dushmani jamm ke karo par itni gunjaayish rahe jab kabhi hum dost bann jayen to sharminda na honi padi.Never over-shoot the runaway. Don't vote for us. But don't judge us on the basis of your prejudices.Watch us. Watch our performance.Rootho zaroor tooto mat.
Nitish Kumar decision to part ways with Narendra Modi proved his undoing.Comment
That decision proved a deadly decision for him. It put the last nail on his political coffin.
There was a signature campaign against Narendra Modiji in your film industry?
Oh God! Pseudo-intellectuals headed by a headless team . Their high command was a headless chicken.
Are you going to take over the I & B portfolio?
I won't hesitate from taking up any responsibility that my party wants me to. Long back I was offered the I &B portfolio. But I had declined.
Why?
Hamare industry ke colleagues mera jeena haraam kar denge. And why me? There's Hema Mailini also. There are other portfolios for me.It's the prerogative of the Prime Minister. If he thinks me fit for a cabinet responsibility I'll take it up and handle it to the best of my abilities. Bhaagunga nahin lekin maangunga nahin.
Moon Moon Sen
This electoral triumph must be astonishing for you?
Yes, it is. It is astonishing for me as well as others. Initially when the counting started I was trailing. I couldn't take that. My heart almost collapsed. I've never lost in whatever I did. I may have had flop films but never a flop film career. When I was doing my Masters degree they gave me 54.3%. I was so disappointed I never went back for further studies. For the elections I was up against a formidable opponent.And there was an alarming rumour in the morning of the counting that the CPM was coming in. Even Arnab Goswami had predicted defeat for me.
Arnab is not God?
Yeah, but someone has to tell him that.
Your mother would have been happy to see your victory?
Do you know, my mother(the legendary Suchitra Sen) was always against it.I has been asked to contest the elections by Pranab Mukherjee and by many others. She always said, 'Don't get into it.' And she was right. Politics has become such an ugly word in our country.My mother saw politics as a huge physical risk to my life. But it was because of her that I contested the elections this time.
What do you mean?
Everything that Mamatadi (Bannerjee) did for my mother in her last days…there was no way I could say no to her. Mamatadi didn't have to do even half of what she did. It was my small way of paying off her debt.
Now that you've taken on the responsibility what do you feel about it?
You know, Subhash, I'll say this again. Politics is not my scene. My husband(Bharat Dev) is very happy about it. But I am daunted by the task ahead. In a nation that is so vast and so poor tell me about one political party which has made a difference to the poor in any state? I may be able to help a fraction of the population. But I'd always be criticized for not helping enough.Bankura is the second-largest state in West Bengal. The task ahead for me is huge.I want to recruit youny dynamic people from diverse backgrounds to help me.
So how do you intend to go about the task ahead?
I am exploring, searching for people who can help me realize my dream. I will approach NGOs and doctors.Doctors have already come forward from Kolkata to set up makeshift hospitals.We've also planned to set up cottages for the nurses.We can also get into tourism in Bankura in a big way. The local people can work on building their constituency by themselves instead of getting labour from the outside.Bankura town needs to look cleaner.Appearances are important. The food is wonderful. And the people are so gracious. While travelling across West Bengal I realized how humble and cultured these simple people are.Even little boys would fold their hands and do namaste. Not one cheap or vulgar remark although I am an actress, and so are my daughters.
You seem very gung-ho about getting things done?
It's important to change the image of politics and politicians. There is no need to be corrupt while granting favours. Yes, there are industrialists who need to get their files moving. Instead of taking a bribe you could always say, 'Give me a cheque for a fund in my constituency.' Bankura has one of the largest leprosy hospitals in India , but not enough facilities and doctors. There are lots of international agencies that want to help them. Every day I am discovering new ways to help better my constituency.I was determined to go back and help the people of Bankura even if I had lost the elections.
Your husband would have to deal with your long absences from home?
I used to be away for long periods when I was shooting. I'd be all over the country. Once they wanted me for a lovely television serial in Australia, and my husband just couldn't . locate me. My husband has been exemplary. He has brought up our two daughters very well .I take his words very seriously. Any criticism from him and I really stop in my tracks.He is my support system. He is so happy that I've won the elections.
Raima and Riya stretched themselves out to campaign for you?
My daughters were pulled into it.I think being one close-knit family helped me win.I just had to ask my daughters once. And they were there standing next to me in the scorching 45-degree temperature. They took me by surprise, just like they did when my mother was in hospital. Raima and Riya were there for my mother .During the election campaign it was daughters who prompted me to do something for the people of Bankura. Riya was so prompt sending emails and messages about our progress to political journalists. When I won I sent them messages saying, 'We won.' When we were doing road shows for elections everyone wanted to know whom we'd be bringing from Mumbai as star-campaigners. I said, 'Whoever Mamata wants.' It was then that someone said, 'You've two stars in your house.' I never expected villagers to react so warmly to Raima and Riya. Many of them had never seen them. They've no cinema or television in many villages of Bankura.The enormous response my daughters got… it was victory from the word 'go'.
I don't see you doing any more films at the moment?
I have done 2-3 days work with my daughters. I'd like to do roles once in a while. Acting is a magical profession. Why should I give it up?
You weren't never seriously about your Bollywood career?
That's a myth. I was very serious. I agree like Parveen Babi I was a bit bohemian. But I never took my career for granted.Even journalists today are far more professional.But filmmakers back then were most disorganized. They'd come to me and say, 'Just do the role.' Producers would drop in at unearthly hours asking for money as they had gone bankrupt.Today the young directors in Bengal are so disciplined sincere and hard-working. My favourite director from the current lot is Anjan Dutta. I had once let him down. I said no to him at the last minute. He hasn't forgiven me yet.
Kirron Kher
How has been the experience?
It's been a crazy whirlwind over here in Chandigarh. I was informed about my candidature barely a month before elections. I rushed to Chandigarh where we lost precious time because of the local resentment over my candidature and the protests.
Please continue.
My life was taken up by road shows, election rallies and campaign speeches. I was clocking 4-5 hours of sleep every day. The rest of the time went into attending rallies. For each one I had to give a completely different speech because the audience-profile at every meeting was different.So very often I found myself giving different speeches within half an hour of one another
Were you taken aback at the volume of media coverage in Chandigarh?
There are innumerable television and papers, all very aggressive and not willing to take a no for an answer. Handling all that media amidst unending road shows and speeches was tough on my schedules. But I am used to the media. Jab baarish mein nahaa chuki hoon tooh bheegne ka kya darr?
What are your future plans?
It's all up to the high command. We will know what exactly is required of me on April 20. One thing is for sure. I won't give up doing India's Got Talent.I enjoy being a judge on that. No matter how, I'll find time to continue doing that. The rest of my schedules will be worked around the requirements in Chandigarh.
You have been travelling a lot?
Yes I have been living out of suitcases for the past two months. I've just been throwing my sarees into suitcases and traveling. I'll now have to divide my time between Mumbai and Chandigarh . I have a home in Mumbai which needs attention. But Chandigarh is also home, specially now.Luckily getting to Chandigarh is no problem. It is only three hours' drive from Delhi. I don't think it would be a problem at all.
How do you rate yourself in the entire election scenario?
"Good! I was completely new to politics. Here I was thrown into the biggest political event. I think I managed to conduct myself with dignity and grace in spite of the provocations.