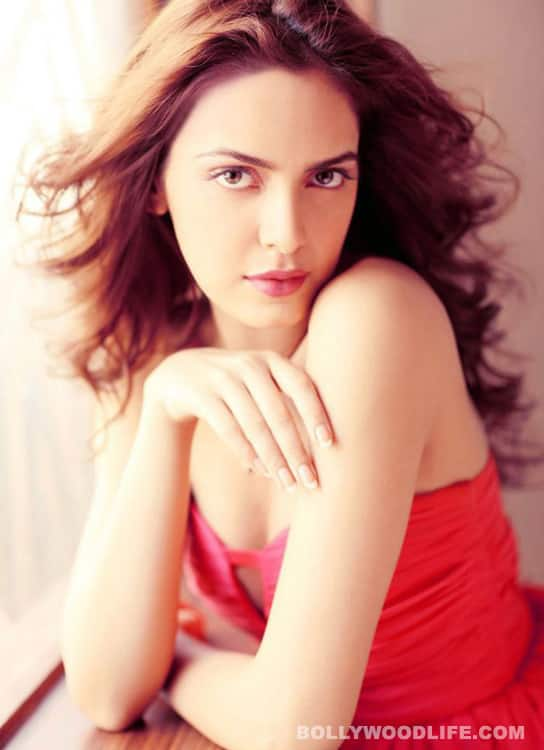 She's the newest kid on the block with a couple of films to her credit, but that has not stopped Shazahn Padamsee from being the latest Bollywood babe. After romancing B-town hottie Ranbir Kapoor in Rocket Singh Salesman of The Year in her debut film and playing Ajay Devgn's love interest in Dil Toh Bachcha Hai Ji in her next, Shazahn is now eagerly looking forward to her upcoming comedy flick Housefull 2
Her kohled eyes spell frothy effervescence and the excitement in her voice when she talks about her upcoming film is instantly recognisable. "I consider myself extremely lucky to be a part of the dirty dozen in Housefull 2, but I am not the dirtiest of them all," quips Shazahn Padamsee, referring to the poster of the Sajid Khan's directorial venture, which is also Ms P's third film in Bollywood. The star cast of Housefull 2, the dirty dozen as they are called – comprising four good looking pairs and some yesteryear's superstar actors – looks like a never-ending stream of utter chaos.
Shazahn is playing Parul, a quintessential Gujrati girl in the film. She promises that the dirty dozen will entertain the audience to the hilt. "You can just imagine how much one would enjoy doing a film that has Boman Irani, Akshay Kumar, Johny Lever, Chunky Pandey, Riteish Deshmukh, Shreyas Talpade and John Abraham in it. The fact that Sajid Khan has directed them all makes the film even more exciting. Frankly speaking, they all are pranksters and really funny people in their real lives too. It was a fabulous experience to work with them," she says.
We are at the launch of a fitness calendar featuring Shazahn, among many other celebrities. Dressed in a ruffled one-shouldered top over tight black leggings, with a chunky belt completing the look, the 24-year-old looks gorgeous. She directs our attention to a picture in which she's trying hard to strike a stern, aggressive pose. She squints her eyes, throws back her torso and breaks her body to match the dark, gritty and rustic tone of the picture, but nothing seems to help. However much she struggles to look tough and edgy, Shazahn always looks cute. In her previous film she portrayed a spirited girl-next-door, so the 'cutesy' tag has stuck. Does it annoy her? "Oh I hear it all the time. It's not that I hate myself for being cute, but it's time to renew my on-screen image. Hopefully Housefull 2 will bring about the change." says Shazahn, who will be seen romancing Shreyas Talpade in the the comic caper. About her co-star she raves, "Shreyas is very spontaneous and his comic timing is unbelievable. I loved working with him. I am cast opposite him and Boman (Irani) is playing my dad. I got to learn a lot from these two fabulous actors, as indeed from the entire cast and director Sajid Khan. I am a keen observer and that has helped me learn so many things about camera-acting. You just have to keep learning, and learn quickly. That's the only way you grow in this industry."
Her tryst with acting began she was exposed to theatre at a fairly young age and Shazahn maintains that stage acting is her first love. Bollywood, obviously, was the next step. Though it's just a beginning for the young starlet in the industry, Shazahn says that it has been an amazing experience so far. Ask her who her favourite actor is, and pat comes the reply. "Ranbir Kapoor! I was over the moon when I grabbed that small yet memorable role of Ranbir's girlfriend in Rocket Singh. I am very fortunate to have worked with him. He's a gifted actor and plays his part very intelligently. I was a bit anxious before shooting the film, but I was not nervous. Working with Ajay sir in Dil Toh Bachcha Hai Ji was again a great experience." She quickly adds "The only time I was all nerves was when I did a commercial with Shahrukh Khan. Oh my god! I was so overwhelmed by the fact that I was sharing a frame with the country's biggest star. Perhaps, that was the only time when I was hassled and very jittery."
As the release date of Housefull 2 nears, Shazahn feels the same jittery feeling she experienced when she did that commercial with SRK, but she firmly believes that the film will do really well. "I loved the concept; it's an out-and-out masala film with lots of dhamaal, comedy and dance. Sajid is a brilliant director. He kept the mood on the sets so light that everyone would look forward to coming to work every day. He's funny. He makes his actor's job fun too and that is reflected in the film. Believe me, Housefull 2 is a crazy, hilarious and super-fun film!"
But doesn't the young actor feel that she may get lost in the flurry of stars that the film has? "No way! In fact, I am happy and I consider myself very lucky to be part of such funny story. I am proud to have contributed my part to this film starring big actors like Akshay, Randhir ji (Randhir Kapoor) and Rishi ji (Rishi Kapoor). I hope the audience will enjoy watching the film as much as we enjoyed working in it. We (The dirty dozen) are dirty in a nice way. We are naughty, we play pranks, we lie at times, but we all are good at heart. We all will entertain you," she insists.