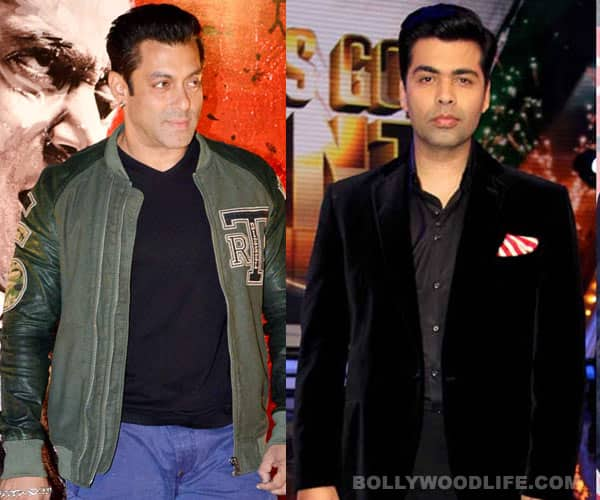 The Dabangg Khan was in a revenge seeking mood – find out how he got back at KJo at the Star Guild Awards recently…
Karan Johar broke tradition by inviting Salman Khan to be his first guest for the fourth season of his popular chat show Koffee with Karan – Shahrukh Khan has always opened the show for the host, who calls him his big brother. And Season 4 got off to a start that nobody could possibly forget, hai na? Karan grilled the Dabangg Khan with his provocative questions and got him to reveal some of the juiciest and hilarious gossip ever. Remember the confession that Salman made about his so-called 'being virgin'? We still remember that and roll on the floor with laughter; and the superbrat's straight-faced statement is still doing the rounds as the best social media joke ever!
So when Karan and Salman came face to face again at the Star Guild Awards, it was the Jai Ho actor's turn to pull his former host's leg. As host of the awards show, the Wanted Khan included a small segment called Sherbet With Salman, which was a Q and A section that was as provocative as any Karan could have come up with. And Salman's first question to Karan: "Abhi tak shaadi kyun nahin ki?" And Karan replied in a flash, with his usual wicked grin, "I am also a virgin, technically!" Karan added that he would explain what 'technically' meant, but only backstage!
We really don't know who's taking whose case here, but Salman went on to ask, "Agar aapko ladki banne ka vardaan mile, toh kaunsi heroine banna chahogey?" Now before Salman could shoot out any options for KJo, the Student Of The Year producer-director promptly named Aishwarya Rai. Now that was something, hai na? We are eagerly waiting for the telecast, 'coz we want to see Salman's face when he heard that one…Wink!