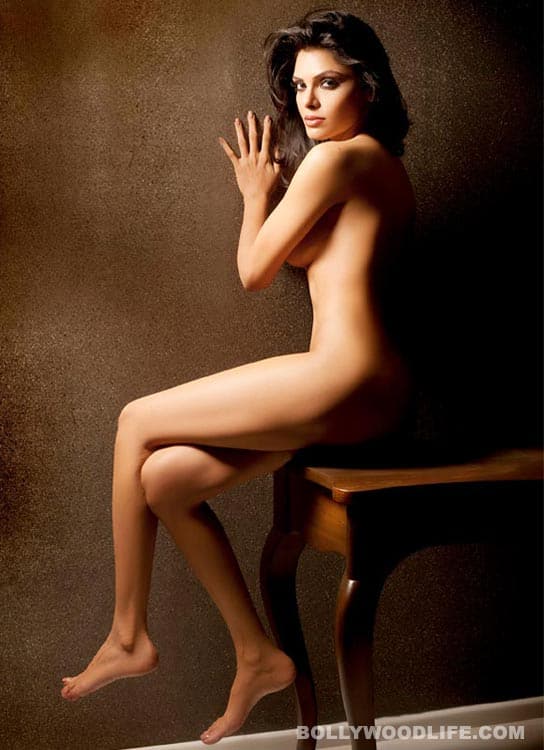 skip advertisement
Sexy siren Sherlyn Chopra decided to pose in her birth suit on her 28th birthday. One of the pictures reminds us of the much talked about film poster of Jism 2.  What do you think?
The bootylicious Sherlyn Chopra is all set to give porn-star Sunny Leone and the bare-it-all girl Veena Malik a run for their money. And while a certain Poonam Pandey kept threatening to go bare several times since the cricket world cup, Sherlyn actually went on and did what she feels will be a delightful visual treat for her fans. "I have pushed the envelope by choosing to cover my nakedness with nothing but pure consciousness. I was born this way!" said the babe who turned 28 on February 11. Always up for an opportunity to pose for the cameras in her itsy-bitsy clothes, the Chopra gal has shed all her clothes this time around and posed happily in the buff for the camera.
This photo shoot, which has been posted on her official website, has been timed by Sherlyn as a sweet surprise to her fans on her birthday. When asked about the thrilling shoot, Chopra said, "It had taken place earlier this month and was organised as part of a make-over for my website and is a gift to my fans on my birthday." Though the photographer in question has used the interplay of light and settings to accentuate Sherlyn's curves, we think the second picture is a replica of the representational Jism 2 poster that had set tongues wagging just a while ago. Miss Chopra has certainly gone a step ahead and got herself shot in a similar pose sans the translucent wet fabric that partially covered the model on the Jism 2 poster. Sherlyn seems to be giving loud hints to directors who are looking for someone who can bare it all and playing out the age old proverbial line that if the script demands she too can do what she does best!