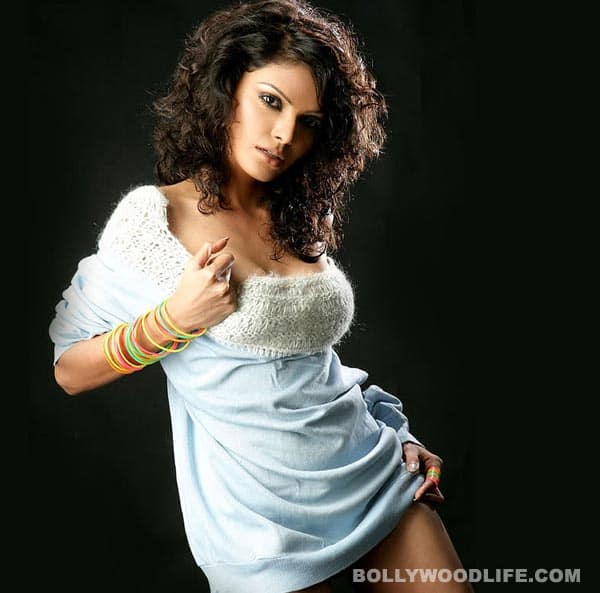 Playboy's first Indian export Sherlyn Chopra made that startling comment on Twitter saying that she's had sex for money in the past
Bootylicious babe Sherlyn Chopra grabbed attention earlier this year for her naughty stint with Playboy magazine. The attention seeking gal posed in the nude for the November issue of the men's magazine – and we are waiting to see that one! And now the sensational babe is baring it all with her candid confessions. As always, she is pushing the limits on this one too, and making a lot of noise in some circles with it.
Sherlyn claims that she's been receiving contact numbers from strangers who are desperate to have sex with her. "I've been receiving contact numbers on my twitter handle n on contact@sherlynchopra.com of those who wish 2 enjoy…..physical intimacy with me at a price….In the past, on various occasions, I've had sex 4 money…out of all my past experiences of paid sex, there's not a single one that I remember having indulged in out of free will…., " tweeted Sherlyn.
Why is the gal vomiting up all this personal dirt now? We wonder, but she says, "b'coz I've come to realize that I derive no pleasure or joy out of physical intimacy that is pursued out. of…..obligation(mental/emotional/financial or any other kind)……. I enjoy being bold…I enjoy oozing sexuality in still pictures n in moving visuals…I enjoy being a tease…I enjoy sex when it is the end result of an uncontrollable lust n/or attraction….Sorry to disappoint you but I'm no longer available for paid sex."
We think Sherlyn is trying to go overboard here. Clearly, she's been getting the attention she hardly deserves, though she herself seems to think otherwise. The 28-year-old knows that her words can create a frenzy and her 'dirrrrty' act will be labeled as yet another PR drive to stay in the limelight. To avoid that she quickly adds. "Dear all, let me make it very clear that the intent of sharing the following confessions… is not to create public sympathy OR to raise eyebrows OR to project myself as a 'bad girl gone good'….itz just to state a few facts."
Now we don't know how to respond to Sherlyn's outrageous tweets. The best way to deal with them is to ignore them, give them a royal snub. That perhaps will stop the Chopra girl from twiddling her thumbs to tell us all what she is up to!
ALSO READ: Sherlyn Chopra's nude photos for Playboy