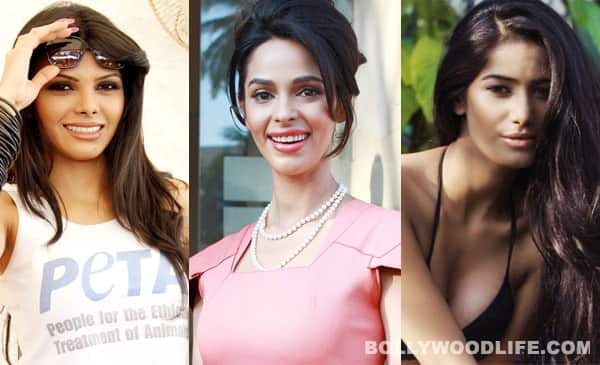 There is a new battle brewing between Bollywood starlets Sherlyn Chopra, Poonam Pandey and Mallika Sherawat! At the 66th Cannes International Film Festival, the Hiss actor raved about how her journey in Indian cinema has been pathbreaking and ranted that India is a regressive and depressing country
We knew Mallika Sherawat would pull a new trick out of her hat to grab attention. Seems we were right. In an interview to Variety magazine, she raved about how she was the first to kiss and wear a bikini onscreen, and ranted about the depressing regressiveness of India It was obvious that a number of Bollywood celebs would get offended and react to Mallika's comments. Madhuri Dixit shot back at the wannabe star saying, "Having lived abroad for many years I can say for a fact that India is not regressive in any way." Priyanka Chopra shared the same sentiments: "I think we are a progressive nation." Amen.
But who knew that B-town bombshell Sherlyn Chopra would also jump on the same bandwagon? Sherlyn took to Twitter to express her displeasure at Mallika's statement. She tweeted, "Had India been "regressive" & "depressing", people such as myself would've been outta work..Why endorse a prejudicial opinion of INDIA???!!!." We wonder if Sherlyn really means it, or if it is just another publicity stunt for her film Kamasutra 3D. Whatever the reason, at least the babe knows what to say when… something that Mallika needs to learn – and wethinks that may take an eternity!
And could Poonam Pandey be far behind in her opinions of her rival starlet? The 'New Generation Girl', as her Twitter bio calls her, tweeted, "It was only due to the 'Regressive' India that Mallika became a movie star." Well, Poonam hasn't impressed us so much before with her comments! We are sure you agree with us on that.
Mallika can brag about her career in any alien accent she wants too, but we are happy that her little drama has brought out the rather more sensible side of Sherlyn and Poonam. We hope to see more of it!