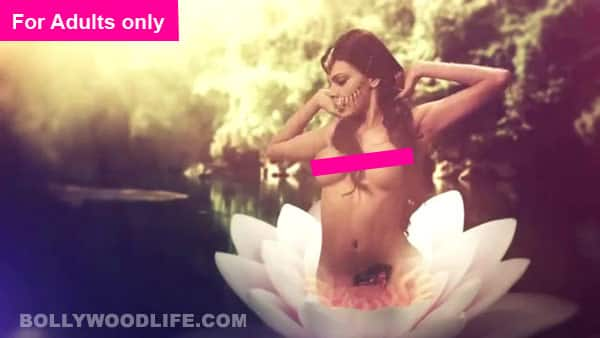 After all the hoopla surrounding the 'adult' video that was reportedly shared by Ms Chopra, we hear that the lady might not be a part of this daring venture after all. What gives? We dig in…
When Sherlyn Chopra proudly shared a teaser of Kamasutra 3D, little did she know that it had a terrible side-effect waiting. And while her fans happily lapped up all that the Chopra girl had to show, the makers frowned and grumbled at the way this video went viral, without the required permissions, of course. Ooops!
Result – Sherlyn is out of Kamasutra 3D, or so the story goes. "I was shocked to see the video," director Rupesh Paul said in an interview, "While sharing the video, I had specified it's not for public viewing, but she still went ahead and uploaded it without our permission." Paul also said that because of this mishap, now the makers have started hunting for a new face (and body) for Kamasutra 3D. And have shortlisted Eva Longoria and Mila Kunis so far.
When Sherlyn read this, she lashed out at her director on Twitter, saying, "Really!!?? @rupeshpaul says it doesn't matter if the actress of KS 3D is Indian or American.. I say, IT DOES MATTER!!!!" She further went on to tweet: "Agar Mr.Paul ko Mila ya Eva ke saath Kamasutra 3D banaani hai toh hamey sign kyun kiya ?????? Tab kya Mila ya Eva ke paas dates nahi they?? (If Mr Paul wanted to make Kamasutra 3D with Mila or Eva, then why did he sign me? Didn't Mila or Eva have the dates at that time?)"
And Sherlyn's tweets went on:
"KS3D Photoshoot Video ke liye Sherlyn aur KS3D Film ke liye koi angrezi abhineytri??? Wah!! Kya Baat! Ghar ki Murgi Daal Baraabar Hoti hai..(Sherlyn for KS3D Photoshoot Video and some foreign heroine for KS3D Film? Wow!)
If KS3D is destined to be mine..then no power on Earth can take it away from me..Best Wishes to Mila/Eva/other names on Mr.Paul's wish list."
Kudos, Sherlyn, for tweeting on such a positive note. But can we really get THAT optimistic? 'Coz even if we try (real hard) to assume that no one can take Kamasutra 3D away from Sherlyn, we are reminded of the way SC's Playboy – no news of the 'famous' cover till now, right? – saga ended.
Does that mean Sherlyn's Kamasutra 3D dream is also over too? While the bold babe would like to think otherwise, we ask you, readers – what do you think?