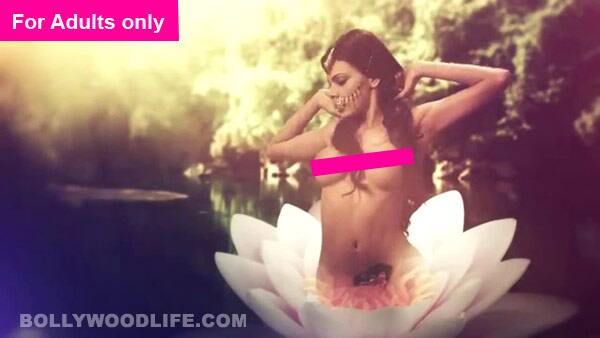 The first official teaser of the sensual epic in 3D shows Sherlyn Chopra shed her ambitions and her top!
The first rushes of Sherlyn Chopra's Kamasutra 3D are out, and it seems that Sherlyn, by going topless, is finally fulfilling all the promises she has been making on Twitter! Though her fans have not seen her heavily publicised Playboy cover shoot, this time around Sherlyn gives them a sneak peek as she appears topless in the one-minute long video of a photo shoot which is the film's teaser. The video shows Sherlyn smiling coyly as she flaunts her ample bosom, accompanied by what the makers probably thought was a teasing sensual beat.
Clad in a traditional Indian attire, Sherlyn is at ease, as she plucks an imaginary flower and puts it in her hair. Later in the video, she is seen stretching it out in a lotus, and in the final segment, she is seen weeping, as if overcome by emotions with all the heavy-duty lovemaking she's been doing!
And although the lights and the built-up atmosphere is good, we really doubt the 3D bit in the video, 'coz for now it's just looking like a gimmick. The movie apparently is a story of a young princess played by Sherlyn meeting a sex-God as she is searching for her lost husband whom she was married to as a child. The movie then revolves around how the God of love teaches Sherlyn, a devoted pupil, all about the tricks and tips of lovemaking, turning the epic around on its head! Definitely of no use as an educational supplement to lovemaking as it was originally intended to mean, Kamasutra 3D is a homage to bold and sleazy movie making in B-town in 2013!