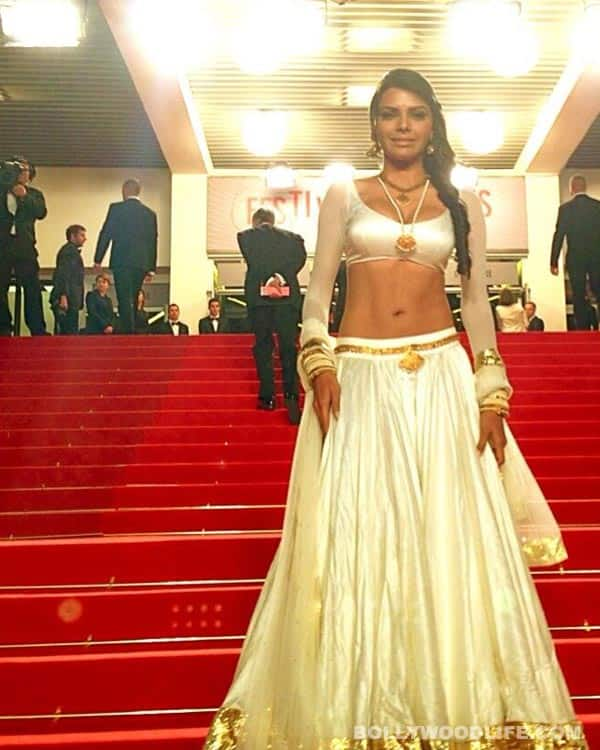 The Kamasutra 3D babe finally got what she desperately wanted – unwavering media attention!
She may not be your A-class diva who steals the limelight with her magnificence presence, but Sherlyn Chopra knows how to get those prized invitations to the glitzy galas to bask in the glory of the flashbulbs. And just when we thought that the Playboy babe wouldn't get much bhaav on the red carpet at the prestigious 66th Cannes International Film Festival, up turned controversy's favourite child, walking the red carpet and commanding a solid wodge of attention, much to everybody's envy.
Dressed in a shimmery choli and lehenga, Sherlyn flaunted her flat tummy and her..ahem ahem..lethal curves. Clearly thrilled at the attention, she walked the red carpet to endorse her new erotic saga Kamasutra 3D. Though not exactly elegant, Sherlyn managed to look her usual ekdum jhataak self. And that was more than enough to draw a horde of photographers who happily snapped away, the sexy siren in centre focus.
Sherlyn was also seen giving interviews and heard chatting endlessly about her 'challenging' role in Kamasutra 3D. Later in the evening, she chose to don a body-hugging gown and put her assets on display, bang in the middle of the road. With much shoo-sha she finally managed to get that much coveted limelight and even brought traffic to a halt. Don't believe us? Take a look at these pictures and see the Chopra babe achieving what others thought to be completely out of her desperate reach!