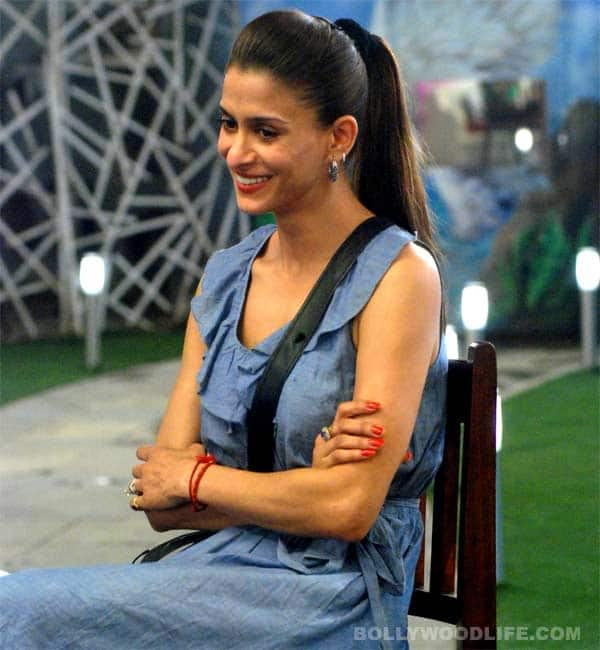 After spending 35 days inside the glass walled ghar, Shilpa became the fifth contestant to bid adieu to Bigg Boss 7
Shilpa Agnihotri entered the Bigg Boss 7 house along with her husband Apurva Agnihotri, but unfortunately she had to leave the house alone. Yes, Shilpa's was the latest eviction from Bigg Boss 7. We caught up with the lady and she talked about her journey inside the house and spilled some secrets….
What was it like to spend 35 days with total strangers (apart from your husband) inside a house?
Fantastic! Mind blowing – I had a great time.
Did you expect to come out of the house so soon?
No, I didn't. But when I got nominated, I figured that I will be out, of all the nominated housemates.
It was clearly seen that you were very protective and possessive about your husband Apurva. Do you think he will be able to cope up without you inside the big bad house of Bigg Boss 7?
I am sure he will do fine. Apurva is an independent guy, so I don't need to worry about him.
What are you most unhappy about – that you came out of the house too soon, or that you won't be with your husband for many days now?
I am not unhappy as such. But yes, I would have loved to stay inside the house for a longer time. I was enjoying the game and I was enjoying everybody's company there. So all in all I am missing everybody.
Given a chance, would you like to enter the Bigg Boss house again?
Of course! The minute they ask me for a wild card entry, I am more than willing to go.
Many people inside the house believed that you were a silent player. Were you really playing the game, or just being yourself?
I was just being myself, yaar! In day to day life or otherwise, I hate to get into fights, problems and controversies. So even in the house I maintained that. I never used to provoke anyone to get into fights. If only anyone would be nasty or wicked with me, then obviously I had to stand up for myself.
Any regrets?
Not all. I am very happy with the way I portrayed myself inside the house.
If Bigg Boss had been a daily soap rather than a reality show, who do you think would be perfect to play the roles of hero, heroine, villain and vamp?
Personally I would not like to give any tags to other housemates, but considering the response that I have got from the people outside since I have come out, I think Tanishaa (Mukherji) and Armaan (Kohli) are vamp and villain in the house. Apurva is known to be the balanced and sorted guy and the girls are doing a good job. All the girls are heroines.
Who do you think are the three genuine and three fake people inside the house?
Apurva, Andy (VJ Andy) and Sangram (Singh) are very genuine. Fake…I don't think anybody is fake. Everybody in there is a good person, but the problem is that they are inside the Bigg Boss house to play a game – time to time everybody plays their cards. So whatever they are doing, they are doing because it's a game.
Now that you are out of the house, what's next? Are you planning to so a daily soap again, or maybe a Bollywood movie?
No Bollywood movie. Uhhh! As of now, nothing. I just want to enjoy my freedom. I want to relax, eat, chill, sleep and as time goes by, maybe I'll figure out what I want to do next.
What's cooking between Armaan and Tanishaa?
I have no idea. Jo aapne dekha hai, maine bhi wohi dekha hai. It's very difficult to get into a person's mind to know what they are thinking. But they are mature adults and they know that they are being captured by 84 cameras. Each and every thing they are doing inside the house is having an effect in the outside world.
What was your motive for taking part in Bigg Boss 7?
Just the experience. I had done a show called Survivors. Then I figured that I wanted to try Bigg Boss as well. Before Survivors, I said no to Bigg Boss many times, but when last to last year I did Survivors, I felt that one should try everything.
Who is a bad influence on others inside the house?
I think Armaan is sometimes a bad influence on others. Because earlier when he was friends with Kamya (Punjabi) and Pratyusha (Banerjee), they used to bitch about others. But then they (Kamya and Pratyusha) realised that they are doing it wrong. Tanishaa, on the other hand, was a sorted contestant while she was with us, but when she became friendly with Armaan, she also started bitching about others with him. So yes, I think Armaan is kind of a bad influence.