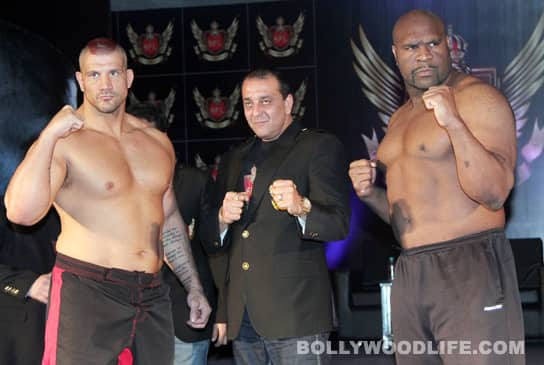 The actor-turned-businesswoman's husband Raj Kundra has roped in the Rascals actor to promote his martial arts tournament. No surprises for guessing why he preferred Sanjay Dutt over Akshay Kumar
Sanjay Dutt along with Shilpa Shetty's hubby Raj Kundra, launched a mixed martial arts tournament, Super Fight League. The sports project will first train fighters in various fight forms like taekwondo, karate, judo, boxing, wrestling, etc and then hold competitions at domestic and international levels. The first tournament will kick off in March, in Mumbai, followed by tournaments in Chandigarh and New Delhi. By the way, the sports project was Shilpa's entrepreneur hubby's novel idea. During his trip in the US, Kundra came across this rising form of entertainment and felt this sportainment had great potential in India too. Thus, he roped in the original action star of Bollywood to promote the tournament.
Ideally wouldn't Akshay Kumar, who has always been promoting, supporting and encouraging martial arts, be the right choice to partner this project? But we guess since Akshay dated Shilpa in the past, a business partnership between them is impossible. Well, let's hope this doesn't fade out like Kundra's previous business endeavour. Meanwhile, we think the Rascals star just landed the jackpot with this project as it will take his savings accounts to new heights.