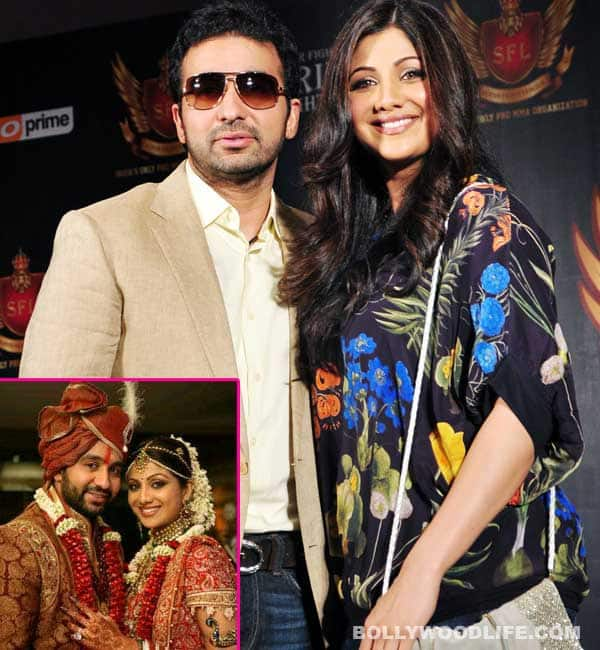 The proud parents of Viaan Raj Kundra will celebrate their third wedding anniversary today. And on this uber-romantic occasion we look back and trace the love notes this couple left on the walls of their microblogging site
Shilpa Shetty and Raj Kundra, with their cute li'l baby Viaan Raj Kundra in tow, will celebrate their third wedding anniversary on foreign shores (probably Bangkok) today. But does that mean they won't be missed in their own desh? Hell, no!
Everything about Shilpa Shetty and Raj Kundra's microblogging site spells 'family' in bold letters. And while we're sure that the couple's drawers will be full of scented billets-doux, their love isn't confined to the four beautifully painted walls of their abode. Instead, some of it has been sprinkled on the message-cramped walls of Twitter too. So here's a dekho at their mushy PDA. Enjoy!
Raj Kundra – the husband
The man in this relationship doesn't believe in silent demonstrations of love. Instead, we're sure his style of expression would be to stand atop a mountain hill and yell, "I LOVE YOU, SHILPA SHETTY." But so what if we didn't get a chance to witness 'that'. We've been privy to his romantic confessions on the social networking site where he has even thanked Bipasha Basu by tweeting, "@bipsluvurself thanks Bipasha may god make you meet your soul mate very soon!!" Oooooh!
And then to his wife, "Wishing my life partner @TheShilpaShetty a very happy anniversary. Love u adore u and thank you for @ViaanRajKundra the best gift of my life."
"Life is more enjoyable if u find ur soul mate. I found mine & have enjoyed the last 3 years of marriage @TheShilpaShetty u complete me!," the doting husband tweeted on the eve of their marriage anniversary.
"'Everything's a joke to you' says my wife. I say 'Yes keep smiling and laughing…life becomes more fun!'" he said on November 16. We simply luurrveee this chemistry!!
"My Son is an I-Pad holic at just 5 months!Love's watching his nursery rhymes,music& dance…seems 2 have got his mums genes," Raj said on October 23. No message is omplete without the mention of dear wifey, right Raj?
"Taking off from London to Mumbai can't wait to hug my wife and kid! This has been the longest week in my life!," Mr Kundra said on October 19. Awwwwie!
Shilpa Shetty – the wife
The lady in this relationship is a woman of few words. But that doesn't mean she doesn't let us know how much she loves her darling husband. She wished her husband today by tweeting, "Wishing u Happy Anniversary @TheRajKundra .My real life Hero!;)Can't thank God enuf for having u in my life.Ure the Bestest hubby. Love you!"
And when Raj was on a publish-mushy-messages spree, Mrs Kundra quietly said it all just by tweeting, "Happy Karva Chauth to all. Enjoy fasting and hoping the day goes by soon and we see the moon sooner!;)" The doting wife and new-ish mum kept the difficult fast of Karva Chauth and went without water and food for a whole day just to ensure a long life for Raj Kundra. Awwww, can anything be more romantic?
So today we wish Shilpa Shetty and Raj Kundra a very happy wedding anniversary. Cheers!