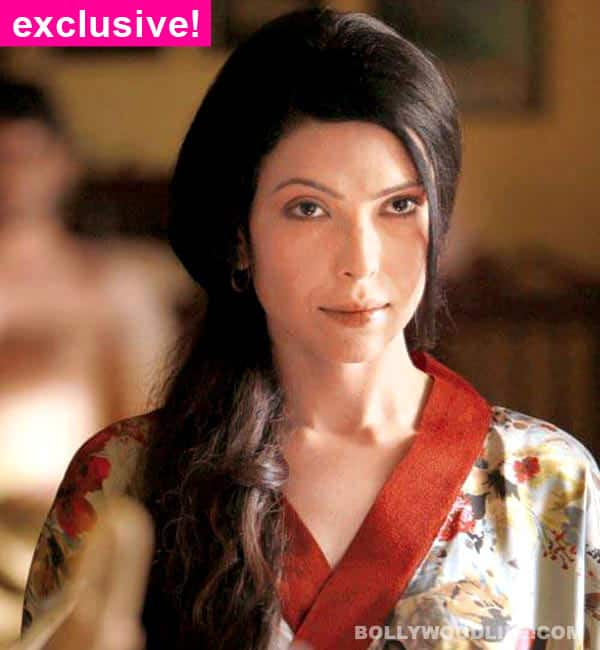 The B.A. Pass actor speaks her heart out in an exclusive interview to BollywoodLife
Actor Shilpa Shukla is ecstatic about her comeback film after a brief soul-searching hiatus from the industry. The trailer of her latest movie B.A. Pass is among the most viewed videos online for its sexual content, but the movie is not a tale of sleaze, she explains. It's a life-altering human drama. We chat with the powerhouse performer on her role as a mysterious married woman in B.A. Pass. She also talks about her equation with Shahrukh Khan and Anurag Kashyap, her future films and her passion for photography. Excerpts
What made you accept the role of a mysterious married woman, a cougar in B.A. Pass? Older woman-younger man tales generally don't work in B-town…
It's for the story. Manohar Kahaniyaan hoti thi naa, train se dikhti thi, book stalls pe lataki, jiske cover pe hot hoti thi ladki! And some heinous crime of the time… nail-biting! I had not read any (suck books)! My gut made me accept the role in B.A.Pass. And the dare of it and the 'looking good part of it'…(laughs). I had heard of flirtatious aunties…(winks) and Sarika (the character) was a very interesting play of clay. The mysterious married woman who has a heart of gold. B.A.Pass is more than a tale – it's a life-altering human drama. You may want to close your eyes in shock perhaps, but less is more in this film.
The film trailer has views in lakhs on pure merit (smiles). Three lakh people follow the movie on Facebook, and the numbers are growing. The response is amazing. This one will work for you, I promise. Just an open mind and a strong heart are needed.
Did you read Railway Aunty from the book Delhi Noir before accepting the role, or did you just go by the script?
I read the script on my phone. Scrolled, scrolled, scrolled and rolled. Wow. I asked my mother first, laughingly, "Aap humko disown toh nahi kar dengi iske baad?" I accepted the role after my parents said yes, with an idea about it. My father, a righteous man, said you will have to take bigger risks. Act and forget the rest. I read the story later from the book Delhi Noir. The story to screenplay to the film – it is a beautiful, rare balance.
How easy is it to shoot erotic scenes, even for seasoned actors like you? How do you prepare for them?
You know, work is God . And God is love. When you love what you are doing every scene is erotic! (laughs). Mind, heart, body, experiences and memories are perhaps what make a character and the animal of a character. When I look at Sarika, I see her like a cat. Sometimes she is motherly, meaning well. While shooting the love-making scenes I felt appropriately covered and felt like a cat (smiles). Preparation was the state of mind until one day she got into my body. Sarika was an out-of-body experience!
What is your role in Gulaab Gang and whose gang are you in, in the movie? How was it working with acclaimed actors like Madhuri Dixit-Nene and Juhi Chawla?
Gulaab Gang did not work out! Yeah, at the last minute…just… (smiles). I have worked with Juhi before; she is so true to her name! I'm positive that I will get another opportunity to share the frame with the Madhuri 'Madhubala' Dixit. I wish all three of us may do a film – and Shahrukh Khan must produce it. And it should be called Bowled Over Old Gold. Howzzat!!
Are you in touch with all your Chak De! India team members? Shahrukh Khan?
Yes. How can I not be in touch with my base? (smiles). I am so eagerly waiting to know what Shahrukh thinks of the B.A. Pass trailer, you know. He will be proud of me, somewhere, I believe. So, if Coach is happy, we're all happy!
You did a TV show Rajuben with Anurag Kashyap. What is your equation with him? Did you expect him to give you an author-backed role in a film?
He is very kind to me. He rightly convinced me to do Rajuben, which did so good to me as an actor who gave a face to Rajuben. An author-backed role for me. And of course, Anurag offered me like, a big role in his epic film (Gangs of Wasseypur), but since I had just done Rajuben and I had been a gangster and politician whose own son she had to kill and all that pulp – I said no…. I was on a thing for quitting back then. Then I changed my mind. I was not at peace. So, instead I went to Saranath. Then Benaras, from where I met them all in Mirzapur and had a wonderful set experience like a tourist who found them! (laughs) Our equation is good. I was blushing with joy after B.A. Pass got the Best Film award at Osian's-Cinefan Film Fest last year, where Anurag and I met again.
Do you think you're more suitable for women-oriented roles or films that have strong female characters?
If you ask me, I'm suitable for so many roles you see. My face changes…trust me! I know you're laughing, but see…you look at me in Chak De! India and now in B.A. Pass or in Rajuben. And look at me now. I'm like water. I can take form of the container I'm put into. But yes, I love it when roles are meaty. And then I love auditioning for them. From there, it is up to the directors and producers to imagine if I will be worthy. I'm very chilled out and peaceful to work with as opposed to my 'intense' image. I'm not a very questioning actor. I try and do as the director wants. I can do an item number to remember! (laughs). I love dancing. And action. And, aah…I want to do so many things (smiles).
As an actor, you'd said to BollywoodLife before that your intensity backfired in some roles you did. So, are you holding back now and analysing how much you should give to a particular scene?
Those roles helped me pay for my existence. Intensity toh bubbly character mein bhi hoti hai. Intensity chehre pe measure kaise kar sakte hain? Hilary Swank is intense as a boxer in Million Dollar Baby and as a woman in love in P.S. I Love You, and many more exceptions to the rule. I'm not saying, you take me. But try me, at least! I think typecasting is something which the stars love, not actors. I want to be the balanced star and actor.
About getting in to direction, you were of the opinion that it's a man's world out there. Has the perception changed? Ever thought about writing your own film, or directing it?
The Rule No. 1 for me in direction would be, apply 'Male Female' to characters not yourself (smiles). You are made up of your mind and experiences. I have made a 12-minute documentary film on the most beloved girls' school of our village, and there are a lot of good things in store for the future of the school. And I could make a big blockbuster too, if I wish to, that is. Yes, I'm working on my film script. It's very organic, as me. But not boring, as me (winks).
What are your forthcoming films?
B.A. Pass, directed by Ajay Bahl, is a Tonga Talkies production. The film releases on July 12. Mark it, please! Then there's Coffin-Maker directed by Veena Bakshi, starring the awesome ensemble of Naseeruddin Shah, Ratna Pathak Shah, Benjamin Gilani, Amit Sial, Randeep Hooda and many other wonderful actors. Next is Love, helmed by Abhineet Gogne. It's a feature shot on Canon 5D camera, with Chitrashi Rawat, Prashant Narayanan and Rajesh Vivek in the cast. And then there's Pranam Walekum, directed by Sanjai Mishra urf Apple Singh with 50 interesting actors.
Did Hollywood star Uma Thurman watch Chak De yet? (The last time we talked, you said she wanted to)
Hmm, I met Lily, Uma Thurman's angel agent. Again with HH the Dalai Lama, but we did not remember to check on that. Lily was very sensitive and intuitive when my father passed away last year. We were remembering him.
Is your passion for photography still on? Do we see a book or an exhibition of your pictures?
Yes. I have a professional camera now. I'm waiting for truly being inspired. Maybe a coffee table book, and gifting people their pictures in a frame…I love doing that! (smiles)