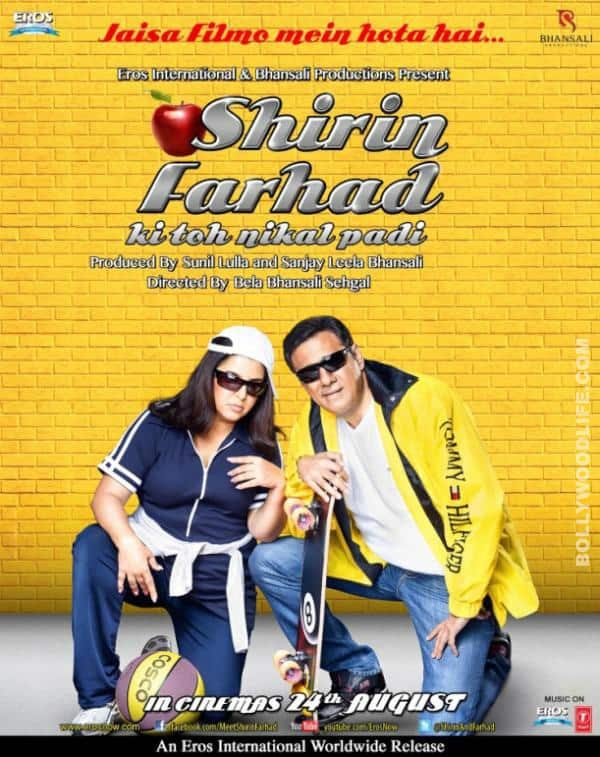 Sit back and enjoy Farhad Pastakiya and Shirin Fugawala's crazy love ride, as they seal their relationship with abnormally tight hugs, a diamond ring, loads of sali boti and scrumptious dhansak
Farhad Pastakiya (Boman Irani) has no qualms about working as a salesman in a bra and panty shop. And every time he meets a girl, he discloses his profession with an honest tone and a swollen chest. What's amusing is that whenever he does so his mother (Daisy Irani) condemns him by rolling her bulbous eyes and his relatives deprecate him with great relish. But Farhad is a guy with a clean heart, and although slightly loony, he finally does find someone –  Shirin Fugawala played by Farah Khan – he can hold hands with in a coffee shop and have hours of mindless conversations with. If you feel terms like innocence and romance can't be associated with mature 40-something men and women, Shirin Farhad Ki Toh Nikal Padi is sure to change something about the way you think.
Boman and Farah unabashedly whisper sweet nothings into each other's ears and make it look real at the same time. But I must also admit that the intermittent mush might get on your nerves, especially if you don't have an appetite for an ultra sweet and saccharine form of romance. But Farah's poker-faced snubs and Boman's childlike enthusiasm eventually balances it out.
The heavy dose of Parsi culture showcased in the film reminds us of the 1978 Basu Chatterjee film Khatta Meetha. And even though SFKTNP has that old-world charm, it would be downright foolish to compare it with an unforgettable flick like KM just 'coz the core essence is somewhat the same.
The film is cooked in a cauldron that has generous doses of modern Mills and Boonish stuff, a great amount of Bawa madness and a sprinkle of tolerable Bollywood spices. Talking about spice, Boman's grandmother – played by veteran actor Shammi- is an absolute sweetheart. She surprises us with her infectious zest. She's modern and invariably happy. And although her bones have given up, her affectionate nature still remains intact. Her character is very similar to that of the modern grandma from Vicky Donor. Looks like fitting in the modern old-woman in scripts is Bollywood's new mantra for pleasing the audience.
The twist in the tale arrives when Boman's mother disapproves of Farah as her bahu. How the couple gets into a few fights and a brief duration of navel gazing, is what the second-half is about. Farah impresses with her acting, but she does ham up a bit which generally gets forgiven in Hindi films. It's a delightful watch, but as we said before, you got to be careful about the mush-attack in bits and parts.
Rating: 3.5/5
* Poor – Avoid!
** Average – Give it a shot if you are desperate!
*** Good – One time watch!
**** Very good – Must watch!
***** Excellent – Don't miss!