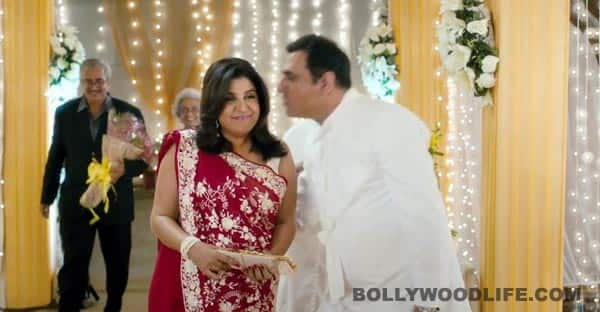 Bela Sehgal Bhansali's directorial debut seems to be headed in the right direction…
Shirin Farhad Ki Toh Nikal Padi is one of those rare films where the leading man doesn't sport six-pack abs and the lady isn't flaunting a bikini bod. It is very refreshing to see Boman Irani wooing Farah Khan in Bela Sehgal Bhansali's rom-com. The trailer of Shirin Farhad… was slightly over the top, but the songs are a warming welcome to the world of Shirin and Farhad.
Watch this new song, Khatti meethi, and you will understand how we have been attacked by the warm fuzzies. We went awwww seeing Farah blush in the first few minutes. And it re-stated our belief that Boman and Farah make for one of the cutest onscreen couples in recent times. It is a little funny to see Farah dance and lip sync a la other leading ladies of B-town, and do steps she herself may have choreographed for various stars. Composed by Jeet Ganguly, Khatti meethi is sung by Shreya Ghoshal. This romantic ditty is one of the most melodious tunes on the album.
We are now eagerly waiting to watch the shenanigans of Boman and Farah on the big screen.
ALSO READ: How did Boman Irani scandalise Farah Khan's kids?