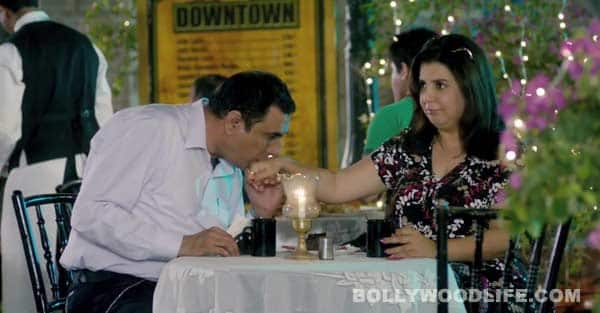 Watch the funny video where B-town's newest 'it' couple shake a leg
Director Bela Sehgal Bhansali has managed to impress many with her 'adult' rom-com starring Boman Irani and Farah Khan. Filmmaker Karan Johar was all praise for the debut director at the new poster launch of Shirin Farhad Ki Toh Nikal Padi. He said casting Farah as Shirin was a stroke of genius. The trailer of the film had us in splits with its over-the-top humour and the sizzling-yet-cute chemistry of the leading pair made us go awwww.
The makers have now released the title song and we must say it is a fun watch. What we loved most was the old lady with cool glares at the DJ console; kudos to whoever came up with that one! It was fun to see Boman match steps with Farah. As Karan said at the poster launch, "It is a 'Rab ne bana di jodi' – a match made in heaven." Shirin Farhad… looks like an awesome entertainer and wethinks it will be a welcome change to watch a film that doesn't have a beefed up dude and a swimsuit calendar babe wooing each other in plush locales. No?
ALSO READ: Farah Khan: I never cared about my looks