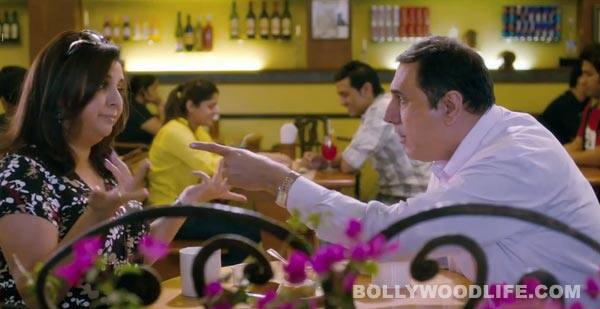 The unusual love story between Boman Irani and Farah Khan in Shirin Farhad Ki Toh Nikal Padi looks delicious
Equally delicious is our attempt to translate the title song of the film into English. The overall effect, of course, got kinda lost in translation.
Yeh toh circus hai, takdeeron ka
Kissa haathon ki hai lakeeron ka
This is circus of fates
The tale of lines of hands
Do dilon ki puncture gaadi
Kal talak jo thi khadi
Rab ne maara dhakka chal padi
Shirin Farhad ki toh nikal padi
Two hearts' puncture car
Till yesterday which was standing
God hit it a push, it started running
Shirin Farhad's that got out fell
Tell me bhaiyya kya karega qaazi
Chaahne wale Jab ho gaye raazi
Phir bhi milna aasaan nahin hai
Mathapachchi hai achchhi khasi
Ek chingari hai kaafi
Aur phir hai diwali
Pyaar to hai aisi fuljhadi
Shirin farhad ki to nikal padi
Tell me brother what will qaazi do?
Lovers when become agree
Even then meeting is not easy
There is a lot of settings to be done..
One spark is enough,
And then there is festival of light
Love is such a sparkler..
Shirin Farhad's that got out fell