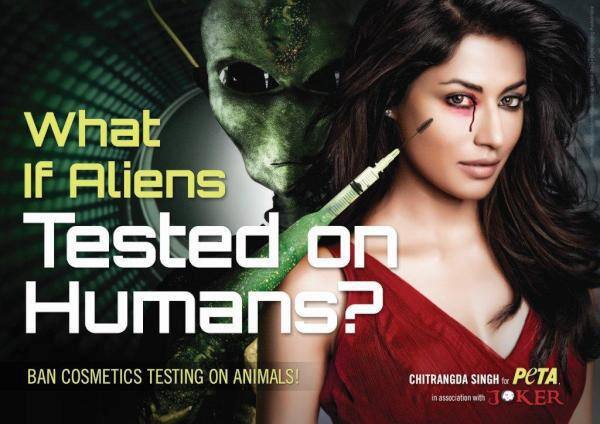 To promote his upcoming film Joker, Shirish Kunder joins hands with PETA and disfigures Kafirana item gal Chitrangda's face
Shirish Kunder's Joker has dived into far more controversy than it's worth. First, it was the leading man Akshay Kumar who refused to have anything to do with the film and refused to take part in the promotions. There were even rumors doing the rounds that Akshay and Sonakshi had a raging affair during the making of the film – however, the two later had a major falling out. Sources claimed that Akki vowed to not work with his Rowdy Rathore co-star again.
Now however, closer to the film's release date, Shirish Kunder and Farah Khan have pulled up their collective socks and started promoting the movie in full gear. They tied up with PETA recently and released an advert against animal testing. The ad shows a pretty Chitrangda Singh being experimented on by a rather sinister looking alien. Sure, the message is all good, but the ad is completely uninspired and badly produced! We hope the film at least sports better production values, considering it's a sci-fi adventure!