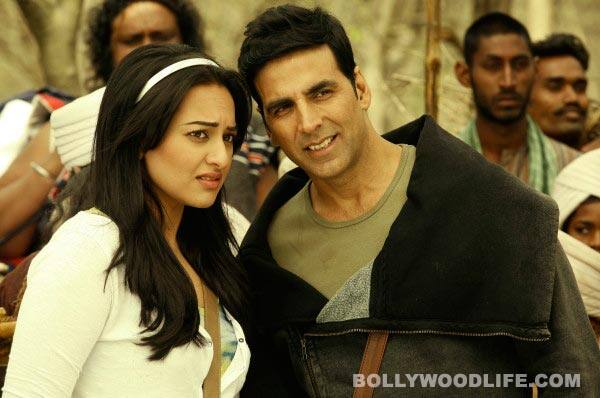 Not too long ago the Joker director was going red in the face trying to pass the blame of TMK's debacle on to his wife Farah, saying that she had directed it. This time, we're waiting for Kunder to blame the aliens…
Close to the release date of the Akshay Kumar-Sonakshi Sinha starrer Joker, director Shirish Kunder was being badgered on Twitter for torturing fans with Tees Maar Khan. Not many seemed to remember that it was actually Farah Khan who had directed the Akshay-Katrina Kaif clunker, though both the story and the screenplay were written by Shirish and his brother Ashmit Kunder. In our rulebook that makes Kunder equally responsible, if not more so, for the film's fate. But, whatever the critics may have said, TMK managed to make some money – it was made with a Rs. 50cr budget.
But instead of standing up for his wife against her detractors, Shirish redirected all the hate mail for TMK to Farah. While all this was happening, we silently waited to see just how Shirish's own directorial project – Joker, again made for Rs 50 crore – would turn out. We chose to ignore all the negative buzz to form our own opinions on how Akshay and Sonakshi would battle the baddies with a few strangely-shaped aliens as sidekicks, or something of that sort.
Then the fateful Friday dawned and we watched the horrendous joke that Kunder cracked at the cost of his audience. We cringed, we squirmed and just before we slunk out of the theatre, Joker ended. Now we must ask: Which was better – Tees Maar Khan or Joker? If the audience reception to both films was anything to go by, TMK wins hands down. While Joker got a paltry opening of Rs 4.75 crore, Tees Maar Khan earned a roaring Rs 12.75 crore at the BO. Some might argue that TMK had Katrina in the lead doing a 'Sheila ki jawaani' and, of course, a cameo by Salman Khan always sells, but come on, let us be fair to Akshay.
Even Patiala House. which so far is considered to be one of Khiladi Kumar's biggest disasters, managed a first day opening of Rs 15 crore – the projected lifetime business of Joker. The same applies to Priyadarshan's Khatta Meetha and Vipul Shah's Action Replayy. We just hope that quirky director Kunder learns from this and saves his energy to make a better film, accepting advice from his well-wishers and dealing with problems in person rather than on social networking sites. Oh, but you've burnt bridges with anyone who is anyone in Bollywood…. Never mind, Mr Kunder!
ALSO READ: JOKER box office: Is the film Akshay Kumar's biggest letdown?