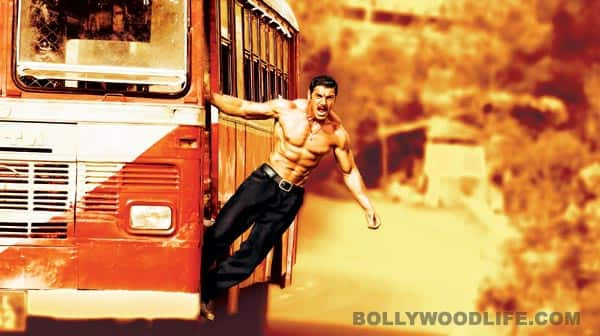 In one of the most expensive affairs, the Sanjay Gupta flick's live trailer was launched in five cities simultaneously
A live gangwar where actor Anil Kapoor came to fulfil his responsibilty as a cop. No, this was not the set of a film, but the first trailer launch of Shootout at Wadala in Noida. The trailer was also simultaneously launched in four other cities with other cast members.
Touted as one of the most expensive launches till date, the scene was acted out in front of the audiences at the Great India Place Mall, with intriguing props in the background. The entire scene was created by ace stunt director Tinu Verma.
Producer Ekta Kapoor along with Anil, who plays a cop in this crime thriller, was present to unveil the trailer, which was enacted in four other cities with other cast members at the same time.
Asked why she decided to have such an elaborate promotion for the film, Ekta said: "I did it because I want to present something exciting to the audience. The audience spends Rs 200 to watch our films, so the least we can do for them is to excite them with new and interesting things. This is a five-city event and may be next time I will make it a 25-city event."
Anil has also sung in this action movie. "I have done many things in this film and one of them is rapping… I have rapped for the first time," said the 53-year-old star. "Yes 25- 30 years back, I sang for some films and once again I have stepped in front of mike and the feeling is amazing."
Shootout At Wadala, a crime thriller releasing on May 1, also stars John Abraham, Kangna Ranaut, Tusshar Kapoor and Sonu Sood.