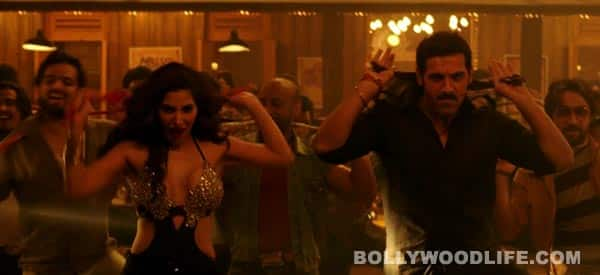 While we are quite willing to heave a collectively lecherous sigh when John Abraham flexes those muscles and shows off those dimples, we prefer not to watch when he decides to dance…
Nobody ever said that John Abraham could dance. Not even John himself. But in Ala re ala, the new song from Shootout at Wadala, the handsome hunk with his newly sprouted moustache grown for his role as Manya Surve has done a halfway decent job, showing off his tapori ishtyle as Sophie Choudry wiggles and jiggles her scantily clad bits and pieces to some deadly dhinchak music. John does not have to do steps that are particularly challenging, but he does not look too bad doing them, we have to admit, even though we usually cringe when JA decides to move his two left feet to the music.
And even as he finds increasing success and satisfaction in his career as an actor, producer, ad filmmaker and more, and he goes further in his relationship with ladylove Priya Runchal, the man in the yellow swim trunks has a new bugbear to battle. According to those in the know, his former beloved, a certain Ms Basu, Bipasha Basu, has been badmouthing him to all and sundry as the one who wrecked their long-term romance by philandering…err….sleeping around. But now John's loyal buddies are emerging from the woodwork and claiming that it was Bips who did the bed-hopping, not John. According to them, Bipasha's affair with Singularity co-star Josh Hartnett was the final straw and the already on-off love affair came to a crashing end.
Now does Mr Abraham need all this kind of messy noise at this moment, when he has a film getting ready for release? That is something only he can tell you. And this Manya Surve ain't talking!