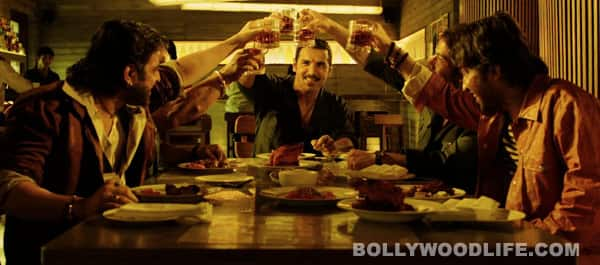 We came across this deleted scene from Shootout At Wadala, where Manya Surve aka John and his gangster friends are seen having a hilarious conversation (read: cuss words galore) at the dining table, annoying others
Gone are the days when cinema relied on heavy-duty dialogues by rustic, raw protagonists. Contemporary cinema serves up more conversations that are extremely casual and instantly manage to strike a chord with audiences, especially the youth. Just imagine, if the normal, well brought-up individual of today can't help using cuss words twice or more in a single sentence, then how would the so-called underworld bhais or gangsters speak when in casual interaction with their buddies!
In this exclusive, unedited video of Sanjay Gupta's Shootout At Wadala, we see Manya Surve having dinner with his gangster friends when the topic of discussion all of a sudden veers towards using cuss words – they chat about which the best way to swear is! Siddhanth Kapoor, a Manya Surve loyalist tells his tapori group that like a national bird, national animal and national language, there should be a national cuss word for India. He suggests bh****** as one such instance and gives a hilarious justification: 'Yeh gaali humare desh ke har language mein, har culture mein is tarah ghul gayi hai… jaise whiskey mein soda!' Onlookers at the restaurant are quite miffed with Siddhanth and his group shouting Bh******, as John joins the conversation at the end and says, 'Aur jashn bole toh peeyo Bh******!' and raised a toast.
Watch the deleted video from the gangster flick releasing this Friday – 'coz when you watch the film you won't be able to catch John Abraham, Tusshar Kapoor and Siddhanth Kapoor chatting so informally!
[jwplayer mediaid="214768″]