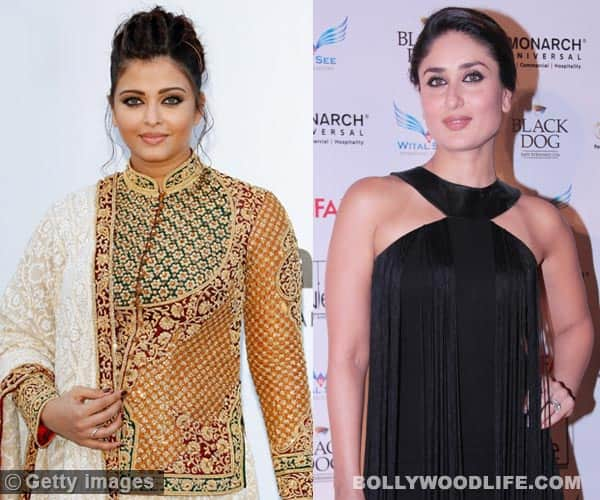 Last time the won't-get-pregnant-till-shooting-is-complete condition was raised when a pregnant Aishwarya Rai Bachchan was asked to leave Madhur Bhandarkar's Heroine. Now apparently Kareena Kapoor's dream to work in Ram Leela will be unfulfilled for the same reason. Is that the latest mantra corporate filmmakers want leading ladies to chant?
A year ago, Aishwarya Rai Bachchan got into a very public brawl with Madhur Bhandarkar and UTV Films 'coz she announced her pregnancy after a few weeks of filming for Heroine. And it brought to the fore an issue that so far hadn't adversely affected the making of movies in Bollywood. A hue and cry was raised by the filmmaker frat at the time insisting on a pregnancy clause in every female actor's contract, a condition stating that any female actor of appropriate age – married, to be married or in a live in-relationship – wouldn't have a child during the making of the movie.
Now rumour has it that Bebo Begum – in Talaash, by the way, she will be credited as Kareena Kapoor Khan, her married moniker by then, we assume – walked out of Sanjay Leela Bhansali's magnum opus Ram Leela 'coz of the same contentious clause.
And it makes us wonder if leading ladies should abide by such conditions. There is, of course, some justification. Let's take a look at what the repercussions of a heroine getting pregnant mid-way through the shoot of a film would be….
– The script would have to be altered to accommodate the leading lady's changing physicality and increasing weight
– A pregnant heroine can't do physically strenuous and exhausting scenes
– An expectant mother may not want to get intimate with her co-star
– Tempers on the sets could fly high as expectant mothers go through violent hormonally induced mood swings
– The pregnant heroine's health and delivery date could delay the film's shoot
– The expectant or new mother may not be available for the film's promotions – a must do for every actor in today's competitive times.
However, in the past an expectant Jaya Bachchan did Ramesh Sippy's Sholay and Sharmila Tagore, visibly pregnant with Saif Ali Khan, shot for Asit Sen's Safar. And internationally, pregnant actors are not as unusual as they are in Bollywood. Remember Angelina Jolie got pregnant at the end of her Changeling shoot schedule? Though when Nicole Kidman discovered that she was expecting a child just before filming began, she left The Reader, and Kate Winslet replaced her in the romantic drama.
So do you think that B-town film contracts for female actors of the appropriate age should have a pregnancy clause? Vote to tell us what you think!