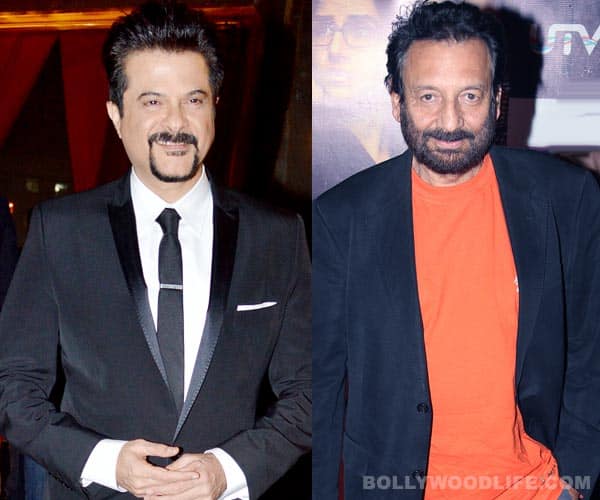 When Anil Kapoor paired up with director Shekhar Kapur over 25 years ago, the result of the collaboration was the box office success called Mr India. And now the maverick director has approached the jhakaas star once again for an international project. Anil has already started jumping with excitement, but we think he should hold his horses. Why? Find out…
It is easy to turn Anil Kapoor into a giddy kid leaping about with unbelievable excitement. All you have to do is to utter two magical words – international project- in his hearing him and you will see the star going all red with the thrill. Remember how apna Lakhan was brimming with exuberance and hopping all around at the Academy Awards with Danny Boyle when the Slumdog Millionaire won the trophy – so many of them too! Anil was the proud host of Tom Cruise when the Hollywood sensation paid a visit to India. Though AK had only a-blink-and-miss appearance in Cruise's action thriller Mission Impossible 4: The Ghost Protocol, the 53-year-old actor made a huge show of bagging an internationally commercially successful Hollywood movie. If that's not enough, Anil continues to brag relentlessly about his work in the popular American television series 24, which he is remaking for Indian TV.
And now we hear that Shekhar Kapur, with whom Anil delivered the mega-successful Mr India more than 25 years ago has approached AK with a new international project. A little birdie tells us that the film in question has been tentatively titled Indian Sherlock and it will be directed by London based filmmaker Anand Tucker, whose works include Leap Year and Shopgirl. Anil ,we are told, will be acting as a lead in the film and Shekhar will wear the hat of creative producer for the project.
And you don't need to be a genius to imagine how Anil would have reacted to this. He has not just given his nod for the project, we gather, but is looking hyper-excited these days about it. But we at BollywoodLife think the jhakaas star should not showcase his enthusiasm so overtly…not yet, at least. After all, Kapur is known for announcing lofty international projects with big ideas, super-creativity and unbelievable production values. That none of them have actually happened is perhaps not the point you want to focus on. But going by the number of promises Shekhar has made in the recent past – and we all know how diligently has he kept them – we must advise Anil to keep calm and count his eggs before anything materialises. Otherwise chances are pretty high that the 'international sensation' that Anil is might just be seen sulking big time about an offer that looked and sounded meaty, but never saw the light of day!