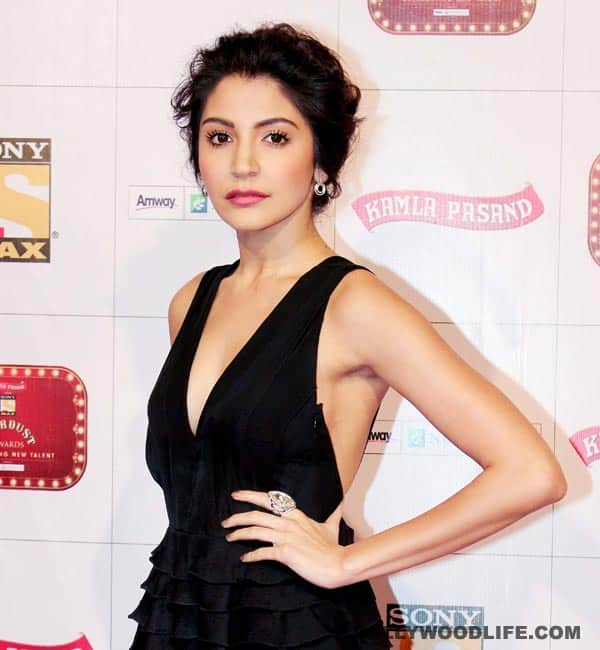 We hear that the Bombay Velvet actor is very upset for her name being unnecessarily dragged into two episodes of Koffee with Karan. Doesn't she know that KWK is not a 'please-me' chat show?
If the latest goss is to be believed, Anushka Sharma isn't happy about being mentioned so often on Karan Johar's popular chat show Koffee with Karan. When Gunday co-stars Ranveer Singh and Arjun Kapoor appeared on the black leather couch, Ms Sharma became the topic of discussion, but that wasn't for very long. Remember how Anushka and Arjun were linked and reports started doing the rounds that all was not well between the Kapoor lad and his co-star? Well, if the Band Baaja Baaraat starlet is upset about this, then she shouldn't be. Coz both Arjun and Ranveer handled the question smartly and neither made any controversial statement about her – and, sadly, about anything else, really! Later, when Deepika Padukone was asked, the actor said that she was friendly with Singh's alleged ex-girlfriend. That we know isn't true, coz any guy's ex and current girlfriends cannot be friends unless they all are living in Utopia, right? While DP hardly said anything about her contemporary, it was Karan Johar who got a little nasty and reported, "If you think you're Anushka Sharma's friend, then you're definitely living in a bubble." But again, isn't he telling it like it is?
In fact, Anushka should be happy that at least people are talking about her. Coz last year the babe wasn't even near the limelight. And if a star stays away from the public eye for too long, chances are that they could end up in the list of 'forgotten' actors. Something we are sure this leggy lass doesn't want, not at this still-early stage in her career and with a new line of work as India's youngest producer (NH10, remember?) waiting to unfold. Anushka's gussa – if she feels it, that is – would be justified if her relationship with Virat Kholi was being discussed, since that is her private life and should stay private, she has often said.
But all this kind of loose talk will only stop when these stars get practical and open about who is doing what to whom, hai na? Until then, speculation if the name of the game.