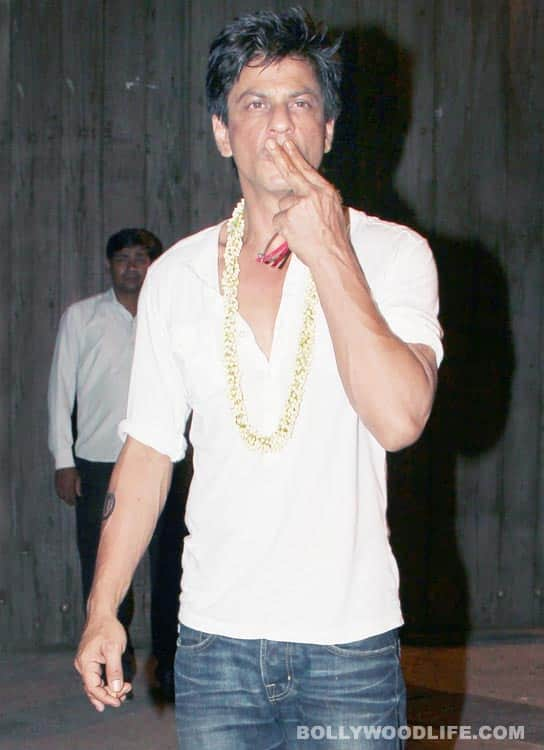 After all, he will turn a mature 47 this year and is getting less credible as a youthful hero singing songs and looking soulfully at a girl…
Shahrukh Khan is returning to romance. His last few films haven't been typical full-fledged romance stories – be it Don 2 or RA.One or even My Name Is Khan. In fact, the last time SRK played a proper romantic hero was four years ago in Rab Ne Bana Di Jodi and that didn't do as well as expected. So it came as quite a surprise when we heard that the film Shahrukh is doing with Yash Chopra is a romantic one. He has already begun shooting for it in London. He is coming back to play the quintessential romantic hero, the kind that made him the star he is today. It's true that no one after SRK has managed to epitomise romance the way he did, but can he do it at the age of 46? Should he do it? That too with two heroines who are half his age – Katrina Kaif and Anushka Sharma. In the 17 years since he acted in another beautiful romance set in London, his face has turned into a well-lined mirror of his experiences that could do with some serious medical help. It would be better for the future of Botox if he shifted lanes again. Look at Salman Khan. His Ek Tha Tiger, is more action than romance from what we hear. Even Aamir Khan, the erstwhile chocolate boy hero, is doing films like Dhoom 3 and Talaash, all more suspense-oriented than romantic.
That doesn't mean SRK too should shift only to action. It's not as if his action films have set any box office records. But he has done very well in Swades and Chak De! India. He managed to draw in the audience without any hamming and without the help of a significant love interest. Those films are considered by many critics to be his finest works and it would be in his best interest if he keeps his age in mind and plays more appropriate characters, wethinks. If it has to be romance, let it be a May-October one. We would like to see that!
ALSO READ: Shahrukh Khan, watch what you say!