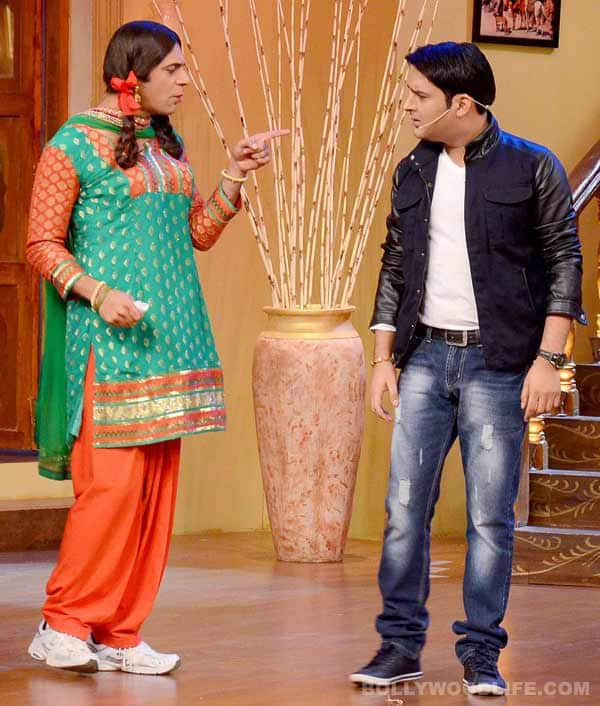 Buzz is that Sunil might return to Kapil's popular comedy show soon. But is it true or just another rumour?
Sunil Grover, who played one of the most likeable recurring characters (Gutthi) on Kapil Sharma's popular comedy show Comedy Nights With Kapil, has been in the headlines ever since he decided to quit the show. Rumours insisted that a tiff between Kapil and Sunil was the reason behind the latter's exit from the funny ha-ha series, while others said that Sunil left CNWK to start his own show on a rival channel. And all the rumours were indeed true. Sunil did start his own show, Mad In India amidst much hype and resurrected his beloved creation Gutthi in a new avatar and a new name, Chutki.
However, unfortunately, Mad In India fell completely flat as it didn't live up to the expectations neither in terms of audience response nor the TRPs. The makers tried to up their ante by calling in unusual pairings, Bollywood celebrities, extending Chutki's portions and introducing Grover in different another avatars. But nothing worked in their favour, due to which Manish Paul, who hosted the show decided to call it quits.
And now, we also hear that, owing to Mad In India's poor response, Sunil might return to Kapil's Comedy Nights with Kapil, which continues to rule the TRP chart and…how!
There was an announcement on a verified Facebook page named after Sunil Grover saying, "All Misunderstand Clear in Both Of Us…Again We will Rock The stage…Together…", which clearly indicated that Chutki will now turn Gutthi again. And obviously, fans of both Kapil and Sunil were extremely happy to know that the two funny men have resolved their issues and will reunite soon. However, their happiness was just for a few days, as both Sunil and Kapil have denied the news of them coming back together.
Sunil went on to say that these are just rumours and that he doesn't have any verified Facebook page. That's not all! He also made it clear that he has no plans to make a comeback on CNWK.
Tch! We are sure you will agree, when Kapil and Sunil worked together, there was surely some magic. Anyway, we would totally love to see to see Mr Sharma and Grover back together on the show. Do you think like we do? Tell us, BollywoodLifers!