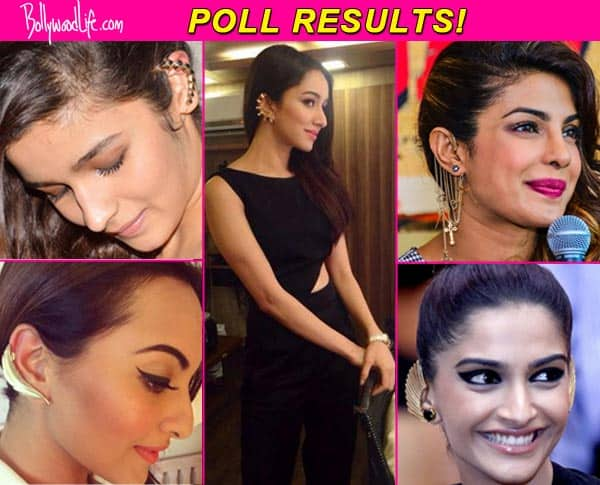 In a recently conducted poll by BollywoodLife, we asked fans to tell us whose quirky ear accessory do they like best and the results surprised us…
Shraddha Kapoor's fans have a reason to rejoice! We asked fans who, they think, looks best wearing earcuffs- Priyanka Chopra, Alia Bhatt, Sonakshi Sinha or Sharddha Kapoor. The fans let us know that it is Shraddha's earcuff style that makes their hearts skip a beat!
While Shraddha won with 34 percent of the votes, we were shocked to find out that the Haider actress's arch-rival Alia Bhatt only bagged 5 percent of the total votes! Though we though that her earcuff look deserved more votes, fans thought otherwise!
Priyanka Chopra came second after Shraddha with 22 percent of the total votes. Sonakshi Sinha's desi and western fusion was also liked by fans a lot as she received 18 percent of the total votes.
Another shocking revelation was that Sonam Kapoor received only 13 percent of the total votes though we thought that the fashionista was setting trends with her earcuff style!
Kajol got 9 percent of the total, thus, beating Alia to stand 5th in these poll results. Shocking, indeed!
Stay tuned for more fun polls on BollywoodLife and keep us posted with your opinions!